iStem dermaceutical announces Beyond Beauty Contests to empower Indian Women
Dr. Lita Mohapatra, who is the founder of iStem dermaceutical, has successfully organized the first season of the show 'Beyondbeauty2022'. The aim of the #BeyondBeauty Contest was to empower Indian women. This seven series of events in the form of auditions which were organised across Bhubaneswar, Odisha was conducted to select new faces for an ad campaign for the company. A total of 10 contestants were selected from different universities which also included KIIT University, Sri Sri University, Birla Global University, IBCS SOA University & XIM , Bhubaneswar.
The grand finale of the 7 serial events was organised at Mayfair Lagoon, on 15th May 2022 at Bhubaneswar. Dr Lita Mohapatra, founder iSTEM dermaceutical, Mrs Zubina Ali, founder Zuby's Fashion, Dr Rosalin Patasani Mishra, founder Parichay foundation, Master Chef of Odisha- Ms Smrutishree Singh, and Ollywood actress Ms Elina Samantray were the names that were a part of the esteemed Jury Panel. The winners of the grand finale will be the top five contestants who will be awarded with direct entry as semi finalist for Ms India International Woman of Substance 2022 that would be organised by Asrava Foundation, in Mumbai this year .
Talking about the same, Dr Lita Mohapatra stated, "We're launching a social media campaign to empower women. We wish to make your skin healthy since beautiful skin is healthy skin. We auditioned female students throughout universities in Bhubaneswar, Odisha, as part of the program. We are looking for 10 new faces to be a part of a worldwide marketing campaign and coffee table book launch." She claims that iStem dermaceutical has a capable team, with Dr. Leisha Mohapatra serving as the company's creative director. She infuses each event with innovation, creativity, and refinement.
The brand exhibits heartfelt gratitude towards Dr Mrutyunjay Suar, CEO KIIT TBI, StartUp Evangelist Dr Sanjukta Badhai and Mr Barada Prasad Panigrahi, the CEO of Sri Sri Incubation Centre for their constant support and guidance . It also is thankful to the co-sponsors LosJovenes Clinilogic Pvt Ltd, iStem dermaceuticals Asrava Foundation, Clinilogic Aesthetics, Earthology Pvt Ltd, Mrs Poonam Mohapatra founder Get Back to Nature, Mr Rajendra Parida founder Sai Plywood, Mrs Subhrasheema Nayak MMT Salon, Mrs Sushma Epari Founder Jeweligree , Partner Epari Govindam & Sons and Mrs Sonal Saraogi Alba gifts.
Los Jovenes Pvt Ltd's iSTEM dermaceuticals division is all set to launch products with more scale-ups and the product launch is planned after BIRAC's Biotech Ignition Grant. Los Jovenes Clinilogic has established a great reputation as a creator of unique active ingredient concepts as well as a true expert in the domains of biotechnology and biochemistry in a short period. Its extensive array of activities is currently being created and formulated using cutting-edge research and development technologies. The brand intends to have designs and develops high-quality actives for the pharmaceutical and cosmeceutical industries, based on naturally derived substances and substantial scientific experience.
Skin colour has been a controversial topic from time immemorial, and it still is now. The fixation with being whiter or fairer has put so much pressure on society, resulting in a pointless distinction between pales, whites, browns, and blacks. Because of heredity, the evolution of life, and light exposure, skin colour varies from darkest brown to palest shades and it should be cherished by all. iSTEM dermaceuticals is one such brand that not only offers quality beneficial items sourced directly from naturally derived products and organic ingredients. It supports all skin kinds and colours and has different products for different levels of satisfaction since it is more concerned with providing healthy, moisturized, glowing, and soft skin. Keeping the health of your skin and keeping it free of pollutants is ideal, which is the brand's aspiration, and hence it develops goods to help consumers attain beautiful and healthy skin regardless of skin colour.
"We care for your trillion skin cells," says the company's mission statement. Talking further about what is the motto of the brand iSTEM dermaceuticals, the founder went on to say, "The idea and mindset being passed down is a beautiful existence from perfect skin – but only for those of the correct shade. This has given rise to a multibillion-dollar industry of cosmetic creams and invasive operations including skin bleaching, chemical peels, laser treatments, steroid cocktails, "whitening" pills, and intravenous injections, all of which have varying degrees of effectiveness and health concerns. It's a dangerous cultural fixation, not just a bias."
Los Jovenes Cliniclogic, a start-up established in Bhubaneshwar, Odisha, owns the trademark iStemDermaceutical. In the form of skin serums, iStemDermaceuticals offers a dermatologically tested and technology-driven phytopharmaceutical product. Is initially only for the Indian market, but Dr. Mohapatra believes it has the potential to expand globally. Even though the company is currently incubating at KIIT TBI Bhubaneswar, it is growing with a strong R&D laboratory and adhering to rules.
How "MPYPCS" Transforming Health & Creating Massive Employment in Bihar
"Yoga" is not only a practice which we do make us healthy and fit in our daily life 'yoga' is more than that it the ocean of all the answers for the many questions science can't answer like "who am I" , "What is purpose of this Life" , "Meaning of Life" and also its most ancient practice to make your body healthy & fit and make yourself immune to so many diseases by Different Asanas and daily practices under your teacher or we can say "Guru".
But Here is a big question!!
Why is yoga becoming so prominent all over the world now , as it already existed in our culture and practices for thousands of years or you can From Vedic Period ?
Let me give you answer of it because Now There are tons of Scientific Research from Scientists all over over the world from big universities proven that Yoga and Meditation have immense effect and changes on your brain & Body in short term as well as long periods of time you will become more healthier, immuned, calm, happy and being filled with gratitude towards nature. And what else a human being wants is a happier settled life with loved ones and family so yoga is the Answer to all the problems we are facing in today's world.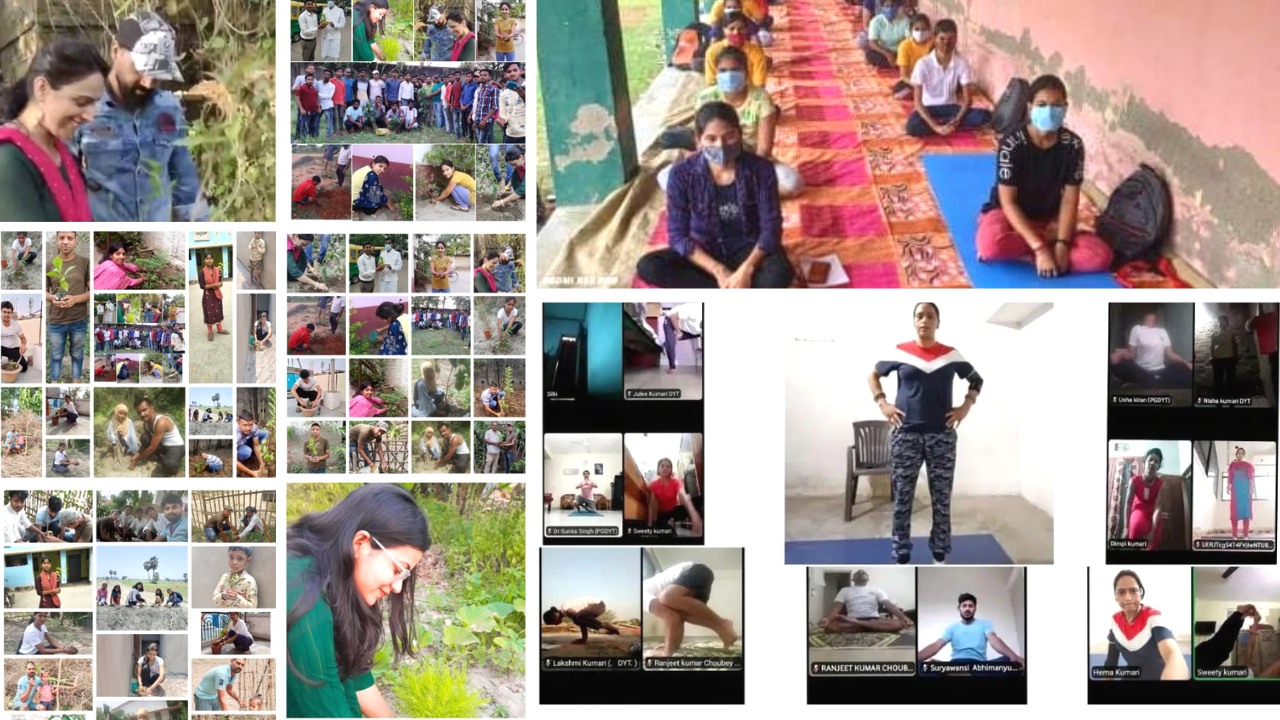 That is the big reason yoga practices,institutes,Teachers are in Huge demand all over the world, Yoga Courses are trending now and yoga teachers are making high paid careers in the Industry perceiving all this " Maharishi Patanjali Yoga & Prakritik Chikitsa Sansthan" Established in 2020 at Bihar,Chapra with the vision of Training Candidates with different yoga courses like, ( Yoga and Naturopathy + CMS ED) And creating tons of employment opportunities for the inspiring candidates from all over the country as well as Internationally." MPYPCS" Have trained more than 1500+ Students From all over and Established more than 52+ Franchises with massive employment in sector even in lockdown phase also, when due to covid everything is closed, MPYPCS has done a great work in training the students online with highly Experienced Teachers and provided the students yoga training and employment opportunities in the sector.
So here is the big question That How Mpypcs Have successfully achieve these numbers even in covid era and instability in countries Economy, So Here is the expertise of Mr.Rajesh and Team of MPYPCS came into action with an unbeatable business model of expanding the MPYPCS Franchises and making every Franchise Business Managed with high-rise Profits.
MPYPCS is the most trusted and accepted yoga institute & Training center by students as they are getting practical yoga training sessions online & offline with highly supportive Teachers with customized study material, books and training equipments this is big reason the students of MPYPCS are competing and getting opportunity everywhere in the sector due to practical knowledge and sharp practices of yoga,different Asanas, medicine and Consultation.
Mpypcs is not only Training Students and Managing Franchises it also contributing to lots of campaigns related to Heath,Yoga,Environment,Mental Health, Poverty, training of unprivileged students and contributing to NGO's, That is Inspiring for youth to involve in these social issues and push country and society to more healthy and well being life.
This Journey with the massive vision of Health & wellbeing is ultimate mission of MPYPCS and the message to everyone who is reading this is that as a individual you should join ,Stand up and take one step ahead on this mission with MPYPCS
Thank You.
S& T corporation to bag Top Re development projects in Mumbai
Leading a life with values and ethics has become a task in today's time. The cutting edge competitiveness has taken a toll on the basic moralities of humans. Yet, the world remains beautiful and worth living because of a few people. The contributions made by them towards the upliftment of the society make living easier for others.
Shri Ajay Surendra Savai is among those really few visionaries and entrepreneurs who still hold on to strong moral characters in their day-to-day practices. Shri Ajay Surendra Savai, who is the co founder of S&T corporation is determined to live his life based on principles that he defines for himself which has taken its company to new heights and scale in recent times . Indeed, a man of values, refined character, and hard work knows that what he chose for himself does not come easy. Hence, he accepts the challenges open heartedly and keeps moving forward.
Adding voice to the acts of compassion degrades the worthiness, says Shri Ajay Surendra Savai. In his acts of humanity, he believes in keeping a secret of his identity, and this choice is driven by a belief that a giver receives in manifolds.
Leading with such philosophies, S & T Corporation Ltd, founded by Shri Surendra Tulsidas Savai & Shri Ajay Surendra Savai has come a long way and has Diversified into Businesses like Construction and textiles and has made a name for itself in the Market. Reliability & Professionalism has been the company's Forte .
In recent times they have bagged good real estate deals and they are planning to adopt the latest construction technology for their projects which will meet global standards.
Promoters of S & T Corporation Ltd. have a long term vision to take ahead real estate projects in Mumbai as well as other cities like Nasik & Goa. On speaking with Shri Ajay Surendra Savai ,He says the Company has surplus reserves and there is huge scope of land development and self-redevelopment in Mumbai which they are intending to explore.
The promoters have huge experience in building real estate projects in Mumbai as well as in other cities and have good hands-on experience in construction as well land
International cross border and digital banking platform started by tech and startup company Jangra's Corporation named KwikPaisa NEO Bank
Jangra's Corporation, a tech and startup company, has launched an international cross border and digital banking platform. The platform will allow users to send and receive money internationally without any fees. Founder of Jangra's Corporation Ajay Jangra has said that the platform is designed to "empower the next generation of entrepreneurs".
Cross border
There are many reasons why you might want to consider a cross border banking solution for your business. Perhaps you have customers or suppliers in different countries and need to make payments in multiple currencies. Or maybe you're looking for ways to expand your business into new markets. Whatever the reason, Jangra's Corporation can help.
Our cross border banking platform is designed to make international payments simple and efficient. We offer a range of features and benefits that can help your business save time and money.
– Save on currency conversion fees: With our platform, you can hold multiple currencies in your account and make transactions in the currency of your choice. This can help you avoid costly currency conversion fees.
– Get paid faster: Our platform allows you to receive payments from around the world quickly and securely. This can help improve your cash flow and free up working capital.
– Access global markets: By using our platform, you can tap into new markets and reach more customers than ever before. This can help you grow your business and increase sales.
If you're interested in learning more about our cross border banking platform, please contact us today. We would be happy to answer any questions you have.
NEO Banking
NEO Banking is a digital banking platform that allows users to send and receive money internationally. The service is available in over 200 countries and offers a variety of features including:
– A multi-currency account that allows users to hold and transact in multiple currencies
– A mobile app that allows users to manage their account on the go
– A payments platform that allows users to make and receive payments in various currencies
– A customer support team that is available 24/7 to help with any questions or issues
NEO Banking is a great option for those who are looking for an international banking solution that is convenient, reliable, and easy to use.
Payment platform
Jangra's Corporation, a tech and startup company, has announced the launch of its international cross-border and digital banking platform. The platform, which is built on the blockchain technology, will allow users to make instant, secure and cost-effective payments anywhere in the world.
The Jangra's Corporation platform is designed to revolutionize the way people send and receive money. Using the blockchain technology, the platform will allow users to make instant, secure and cost-effective payments anywhere in the world. The platform will also offer a unique loyalty program that will allow users to earn rewards for using the platform.
Jangra's launch 2 other brands under KwikPaisa NEO Bank one is OonePe (for global payment app –B2C) and Payliobiz (for instant and secure business payment managements).
The payment platform by Jangra's is currently available in beta version and is expected to be launched officially in the coming months.
Website – https://www.kwikpaisa.com