Women's Day Event By Swaavlambika Foundation: India's Prominent Women Achievers Were Honored
Swaavlambika Foundation brought together the diverse woman achievers of the nation on the occasion of International Women's Day and has honored their great works in the event.
The Swaavlambika Samman held on 6th March at speaker hall, constitution club of India, Rafi Marg, by 4 pm to 7 pm, is dedicated to recognizing and appreciating the achievements of women in society and celebrating their valuable existence.
The eminent personalities have graced the occasion with their presence and enthusiastically participated in the ceremony.
Swaavlambika Foundation holds massive recognition nationwide through its various initiatives dedicated to women's empowerment and making the nation a better place to live. Several events are being organized, aiming to empower women, build their confidence, and enable them to build recognition by their skills and hard work.
Mrs. Chavi Hemanth, the founder of Swaavlambika Foundation, is actively participating in improving women's conditions in society and is constantly executing several practices in the areas of women empowerment, health, education, relief of poor, and aiding the physically challenged people nationwide.
Various women achievers working in varied sectors were honored. Here is our awardees' list.
Rashmi Baluni is honored through the award of "best social worker" for her remarkable practices towards humanity.
Shehnaz Shehab Towheed is a renowned writer and owns a Delhi-based PR agency.
Richa Sharma is a well-known deputy head in the special education department at Shri Ram School.
Sangita Dhamija is the principal of the Delhi Public School in Gurugram. She is a dedicated educationist and has given several years to the industry.
Dr. Bani Yadav has been honored for her remarkable journey in Motorsports, winning rally titles in the women's category and being the first woman to receive the FMSCI.
Ashisha Singh Rajput is a journalist at a renowned news portal named "Dainik Jagran." She has the potential to throw light on the various issues nationwide. She is awarded in the women's day event for her excellent works.
Rohini Vaishnavi has enthusiastically participated in the social welfare practices. She has been honored for her deeds aiming to make a difference in the world by supporting the weaker section of the country.
Sarika Mehta runs a famous Youtube channel named "healthyHo," which educates people about early diagnosis and other health tips.
Prachi Nicholson is a dedicated edupreneur and has given 23 years to the education industry.
Dr. Kusum Lunia is an eminent author, social activist, philosopher, and educationist. She has played a considerable role in shaping the emotional, social, physical, and moral well-being of numerous students and people through her commendable work of non-violence in all these domains.
Reema Tyagi is a prominent social worker of Maharishi Dadhichi Manav Seva Sansthan, Registered Trust.
Babita Verma has been the operator of the United Services Organization for the last eight years and has actively participated in many social works such as women empowerment and helping patients during the Corona period.
Anju Ahirwar is a social activist and has been honored for her good deeds.
Ms. Vandana Kaul is an animal activist. She is feeding more than 400 stray animals like dogs, cats & cows. She also takes care of their treatments and devoted her entire life to this noble cause.
Ekta Nagpal is a social worker and runs a non-profit organization named, "जड़ों से जुड़ो" that aims to reconnect the people of our country with our rich past. The organization has been working to bring back the same dignity and love for our Indian culture.
Dr. Rajshree Darbari is a renowned author.
Guru Shiksha Sangathan has been honored for spreading awareness for quality education.
Some eminent personalities have also graced the Samman ceremony with their presence.
The chief guest, Dr. Janice Darbari, Honorary Consulate General of Montenegro, India
Special guest, Surinder Jeet Kaur (IPS), assistant commissioner of police, Delhi Police. And special executive magistrate southeast District.
Special guest, Dr. Priyanka Mishra (IPS), director at Indira Gandhi National Arts Centre, Ministry of culture.
Special guest, Sushila Madan Khorwal, political leader of congress & councilor. Ward-94 dev Nagar and social activist.
Guest, Deen Dayal Agarwal. Founder- CSR research foundation & former director at Bank Of Maharashtra.
Organizer, Chhavi Hemanth. Founder – Swaavlambika Foundation & EBS India INC, motivational speaker, business & brand advisor. Former head – retail, FMCG & YLF – FICCI, Former secretary-general – IDSA.
Jai Khurana : Owner of JAI ENTERPRISE and young entrepreneur
The beauty industry has never lacked successful entrepreneurs . In 2005 JAI ENTERPRISE was established and now JAI ENTERPRISE is making to build a beauty salon and cosmetics empire . Founder of jai enterprise mr jai Khurana is young entrepreneur who is very active on social media and has huge fan following know for his fashion sense jai is 19 year entrepreneurs form Rohtak Haryana ' growing his business into next level ' JAI says ' There was no precedent in the beauty space and I had no beauty experience; however I did have a strong merchandising background both in fashion and home, so while beauty was new, the fundamentals were the same but still with huge competition jai enterprise is outstanding and performing extraordinarily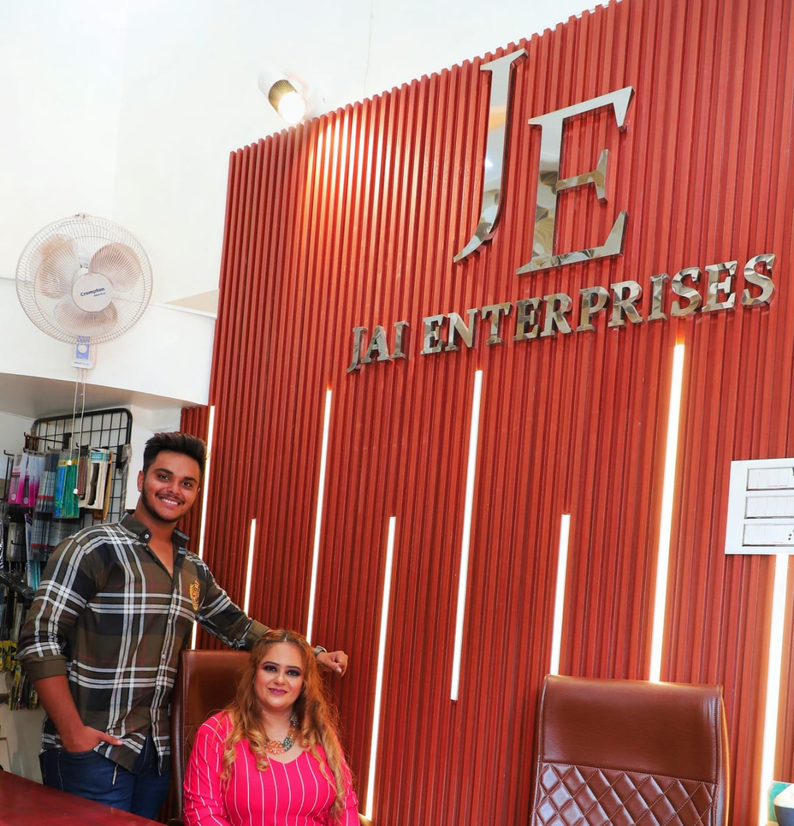 I am someone that while considered accomplished and successful, has been plagued most of my life with insecurities, doubts, and fears. I am working through this and as I do, want to help anyone else in this process."
It's never too late to start over—ever! And surround yourself with people who will encourage you not to give up."
Bebe Nanki ji NGO & Param Jyot Foundation celebrated 'Azaadi ka Amrit Mahotsav' to commemorate 75 years of India's Independence
Bebe Nanki Ji NGO and Param Jyot Foundation, under the guidance of their Chairperson, Amrita Kaur, have been working towards the welfare of society in every possible way. Additionally, Guru Nanak Sukh Shala based out of Old Rajinder Nagar, New Delhi which is run by Delhi Sikh Gurdwara Management Committee under the chairperson Amrita Kaur is not only providing a shelter to senior citizens but home to everyone.
Chairperson Amrita Kaur makes sure that every event and festival is well celebrated at an old age home to keep the elders happy and high-spirited. Similarly, to celebrate Independence Day or Azaadi ka Amrit Mahotsav', the team made sure to organize a full-fledged program that included dance, music, theatre etc.
The event commenced with a welcome speech by Amrita Kaur followed by some wonderful music and dance performances by professional artists and the elders of the old age home. Post that, Natshala a well-known theatre group based out of Delhi NCR performed a play named Partition 1947 directed by Vishnu Grover. A compilation of three stories Amritsar aa Gaya, Raavi Paar and Toba Tek Singh showed the agony and pain suffered by Indians. The performance was so powerful and soul-stirring that the audience couldn't control their tears.
Additionally, Natshala was invited to train the elders for a drama performance. After such heavy and intense acts, the elders were able to spread smiles and giggles on the faces of the audience through an impactful play named Sneeze written by Anton Chekhov and directed by team Natshala. The play was satirical comedy in nature and the senior citizens left no stone unturned to take the audience on a laughter riot. They proved and motivated the audience that age can just be a number if determination and hard work are strong enough.
Chairperson Amrita Kaur encapsulates her experience by saying, I am blessed to have numerous parents. I feel that I am the chosen one by God that I can serve all these elderly with
the support of my team and the Delhi Gurudwara Committee. We try to make sure that we serve our elders with all their needs and on top of it, we keep on organizing events and activities to make sure that their inner child always stays happy and alive.
And, on such an important day like Independence Day, how can we miss a chance to make it not special for them. Purposely, we kept Partition 1947 as one of the acts because 14th August is also a Partition Horrors Remembrance Day and who would understand the pain of those days more than this age group? I feel sincere gratitude that I am able to do something for these wonderful people and seek their blessings by it." The event was a big success and was conducted in the presence of some dignitaries including Harmeet Singh Kalka (President DSGMC), Dr Raju Chadha (Wave One) and Rana Paramjeet Singh (Ex Counsellor, Rajinder Singh).
Twilight Organic: A women empowerment saying yes to an organic environment
The pandemic period of COVID-19 made many give up but the winner is born to live and let people live surrounding them. The same happened with one of the emerging leaders of the society who was hit hard by the statement by Sandeep Maheshwari in a video. The statement was that everyone is talking about the job but how many were thinking to create jobs? The leader got inspired by it and their time internal feeling to do something unique got the push to brainstorming.
The personality has great skin and for that has got positive comments with a question of revealing the secret of beautiful skin. Love for organic products to serve own skin has forced to get started thinking to give the natural gift to society with a chemical-free environment to feel.
The goal of organic products is triggered towards the research of daily needs of products and their composition and ingredients. Then decided to start with organic soaps and skincare products.
The affection for the benefits of aroma oils made the origin of Twilight Organic in existence with the invention of candles with diverse aroma oils mixed with other ingredients. The reason behind the aroma oils candle effect was to find relaxation to senses for emotional stability and health as well.
Then the series of products started coming as natural and organic value holders maximum without any preservatives. In case any preservatives were in need then natural extracts were used for the purpose instead of synthetic. The products range in soaps, scrubs, bath salts, organic body butter, etc.
Twilight Organic takes care of packaging too so that products will not react with it. Cloth bags, glass containers, or high-quality containers are used for packaging the products with gift and shipping facilities included with each order. There are different products for skin care issues to get healed.
The products are free from animal testing and near to Ayurveda and nature to provide the best to the skin. These are pollution-free and eco-friendly products. Twilight Organic is supporting our Indian economy with a job opportunity for women as a talented crowd got already involved and many more is to get included soon.
There are new products on the list such as
Charcoal scrub and charcoal pack for anti-acne and skin lightening.
Pearl scrub and pack for skin whitening.
Chocolate scrub and chocolate pack for dry skin
The shampoo bar is a special product for healing dry and damaged hair, dandruff, and hair fall. It's handy to carry and natural care for your hair. A great idea is no more plastic bottles to carry.
There can be many more additions in the forthcoming years as per the need of the environment and people. Twilight Organic is focused on the objectives at the base of the organization.
The future goal of Twilight Organic is to make more people influenced by natural products to get a long-lasting effect for a healthy body with healthy skin. Creating job opportunities is also one of the main objectives of Twilight Organic. The organization believes in creating a better future for the next generation with the asset of the natural environment. For more details visit http://www.Twilightorganic.com.