Vimla Rugs is all set to launch 100% Natural-Dyed Yoga Mats this Yoga Day
Vimla Rugs, one of the leading manufacturers and exporters of best Rugs in India is all set to launch 100% Natural-Dyed Yoga Mats, this Yoga Day. The Yoga Mats would be eco-friendly and would be produced with about 20 wellness promoting herbal dyes and cushy organic cotton. The brand has stated that these herbally dyed Yoga Mats would be manufactured in a way that would provide consumers with a plethora of benefits. In a first of its kind, these Yoga Mats will be ethically-handloomed and will be produced through using organic raw cotton.
The 100% Natural-Dyed Yoga Mats alongside being anti-bacterial and anti-fungal in nature will also be sweat and slip resistant, providing comfort to the Yoga Practitioners. The soon-to-be-launched Yoga Mats will be 100% non-toxic and would be produced through plant dyes and natural tree rubber. Additionally, these Yoga Mats would be free of any man-made chemicals, heavy metals, PVC, BPA, or phthalates. Vimla Rugs, through announcing the introduction of these Yoga Mats, aims to help Yoga enthusiasts in reaching their full wellness potential and providing them with comfort during the time of practising this ancient art.
Talking about the idea behind the introduction of these eco-friendly 100% Natural-Dye Yoga Mats, Kamlesh Kumar Jain and Dinesh Kumar Jain, the founders of Vimla Rugs stated, "We all are pretty much aware of the fact that in India, the tradition of Yoga has been going on since centuries but in the recent times, people have become very much inclined towards Yoga, given its health benefits. For practising Yoga, people have been using Yoga Mats but somehow, these Mats that are available in the market are not healthy and are made through using substances that are harmful to our environment. To address this concern and with an aim to provide people with Yoga Mats that are eco-friendly and free of any harmful toxins, we decided to introduce these 100% Natural- Dye Yoga Mats and what better day than Yoga Day for the launch of our new product." Every one can buy it from their official website www.vimlainternational.com.
The entrepreneurial duo of Kamlesh Kumar Jain and Dinesh Kumar Jain along with the team of Vimla Rugs are all excited for the launch of these 100% Natural-Dyed Yoga Mats that would take place on 21st June, on the occasion of International Day of Yoga. Today, Vimla Rugs stands as a pioneer name in the field of rugs and carpets manufacturing industry. Known for the promising quality and uncompromised artistry, Vimla Rugs has carved a niche for themselves, standing tall against all odds. Currently, they are among India's largest manufacturers and exporters of top-notch quality rugs, carpets and yoga mats.
How "MPYPCS" Transforming Health & Creating Massive Employment in Bihar
"Yoga" is not only a practice which we do make us healthy and fit in our daily life 'yoga' is more than that it the ocean of all the answers for the many questions science can't answer like "who am I" , "What is purpose of this Life" , "Meaning of Life" and also its most ancient practice to make your body healthy & fit and make yourself immune to so many diseases by Different Asanas and daily practices under your teacher or we can say "Guru".
But Here is a big question!!
Why is yoga becoming so prominent all over the world now , as it already existed in our culture and practices for thousands of years or you can From Vedic Period ?
Let me give you answer of it because Now There are tons of Scientific Research from Scientists all over over the world from big universities proven that Yoga and Meditation have immense effect and changes on your brain & Body in short term as well as long periods of time you will become more healthier, immuned, calm, happy and being filled with gratitude towards nature. And what else a human being wants is a happier settled life with loved ones and family so yoga is the Answer to all the problems we are facing in today's world.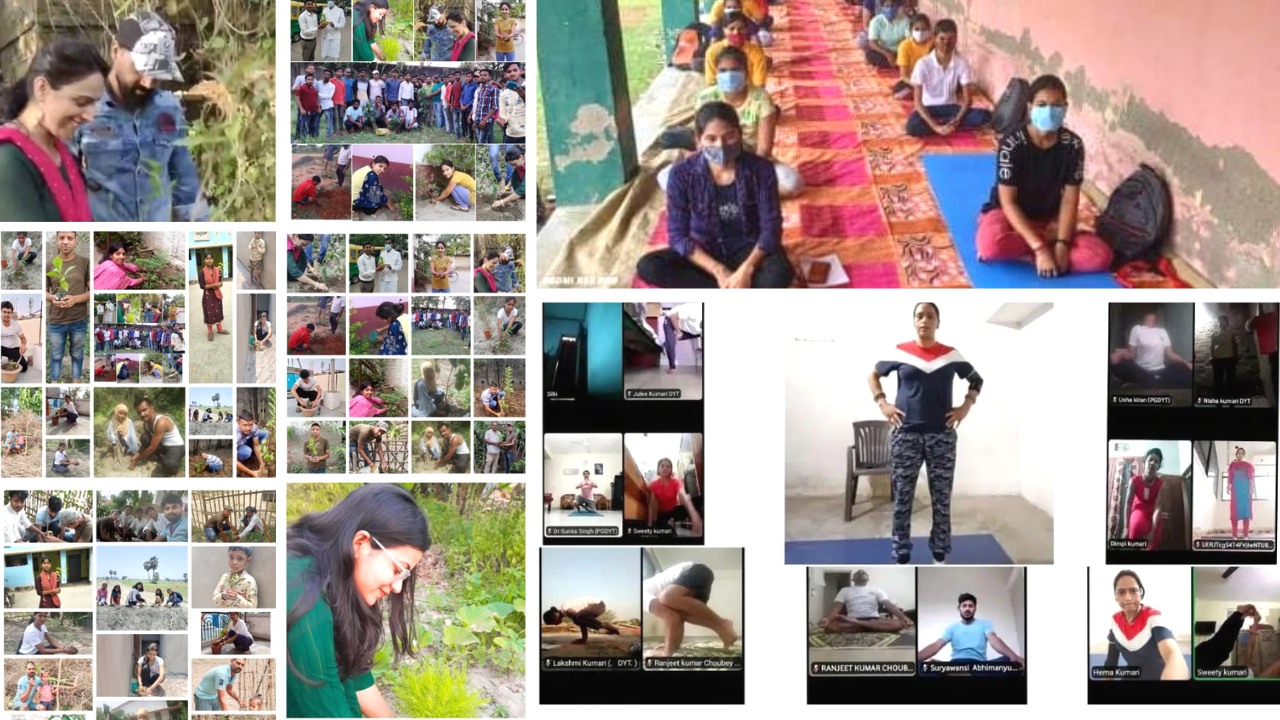 That is the big reason yoga practices,institutes,Teachers are in Huge demand all over the world, Yoga Courses are trending now and yoga teachers are making high paid careers in the Industry perceiving all this " Maharishi Patanjali Yoga & Prakritik Chikitsa Sansthan" Established in 2020 at Bihar,Chapra with the vision of Training Candidates with different yoga courses like, ( Yoga and Naturopathy + CMS ED) And creating tons of employment opportunities for the inspiring candidates from all over the country as well as Internationally." MPYPCS" Have trained more than 1500+ Students From all over and Established more than 52+ Franchises with massive employment in sector even in lockdown phase also, when due to covid everything is closed, MPYPCS has done a great work in training the students online with highly Experienced Teachers and provided the students yoga training and employment opportunities in the sector.
So here is the big question That How Mpypcs Have successfully achieve these numbers even in covid era and instability in countries Economy, So Here is the expertise of Mr.Rajesh and Team of MPYPCS came into action with an unbeatable business model of expanding the MPYPCS Franchises and making every Franchise Business Managed with high-rise Profits.
MPYPCS is the most trusted and accepted yoga institute & Training center by students as they are getting practical yoga training sessions online & offline with highly supportive Teachers with customized study material, books and training equipments this is big reason the students of MPYPCS are competing and getting opportunity everywhere in the sector due to practical knowledge and sharp practices of yoga,different Asanas, medicine and Consultation.
Mpypcs is not only Training Students and Managing Franchises it also contributing to lots of campaigns related to Heath,Yoga,Environment,Mental Health, Poverty, training of unprivileged students and contributing to NGO's, That is Inspiring for youth to involve in these social issues and push country and society to more healthy and well being life.
This Journey with the massive vision of Health & wellbeing is ultimate mission of MPYPCS and the message to everyone who is reading this is that as a individual you should join ,Stand up and take one step ahead on this mission with MPYPCS
Thank You.
Online Homeopathy Consultation and Treatment is Now Available with the Click of a Button
Bringing Homeopathy treatment to your fingertips, the H-Cura App is a unique platform that enables patients to consult online anywhere and anytime with leading Indian Homeopathic Doctors across the country. The H-Cura app is now available for download on the google play store and ios app store.
The introduction of new-age technologies has transformed the eHealth industry in India, in addition to the Covid-19 pandemic, which has accelerated the growth of online medical teleconsultations. In FY21, it has been estimated that the number of online doctor-patient consultations has crossed four billion in India. This number is expected to grow exponentially in the coming years. However, despite the numerous healthcare apps available, there is a gap in the market for quality consultations for Homeopathy treatment. Here's some good news to those who swear by Homeopathy remedies and those looking to switch to Homeopathy treatment for better health; Bangalore-based H-Cura App provides effective and reliable Homeopathy Treatment by expert Homeopathic Doctors at your fingertips.
Connecting care for cure; H-Cura's motto reflects its mission to bring affordable and reliable healthcare services to millions of Indians, all with the click of a button. The H-Cura app is designed to enable a safe, secure and pleasant experience for patients and doctors. The app comes with a selection of unique benefits and features. Enabling patients to consult instantly anywhere and anytime, the H-Cura platform offers a portfolio of some of India's trusted and leading Homeopathic Doctors.
Homeopathy is a revolutionary, safe and highly effective method of practice followed worldwide. It stimulates the body's natural healing capabilities with remedies crafted from natural elements. To cure the root of your ailment, a homeopath considers your physical, mental and emotional well-being. Due to its unique approach, effective remedies and holistic healing, Homeopathy treatment has an advantage over other medical treatments. The H-Cura app offers Immediate Care, On-Going Care and Specialty Care.
The future of India's digital health scene looks promising, with many Indians in the urban and rural sectors opting for online consultations. To address the growing need for reliable Homeopathy treatment in the e-health industry, the team of medical and professional experts at H-Cura has created a unique platform for Homeopathy treatment which is now easily accessible to Indians all over the country. Moreover, they have built a powerful communication system bringing reliable healthcare services with a focus on convenience and confidentiality for the patient.
The H-Cura App is now available on the google play store and app store. With the H-Cura app, patients can experience a hassle-free delivery of their medication to their homes with real-time tracking on the app. In addition, patients can easily access and share their health records 24×7 on one platform and can consult with Doctors using three mediums – messages, calls and video conferencing. A unique feature that sets the H-Cura app apart from other contemporaries is its 'Group Consultations' feature.
Dr. Prerana Desai, a leading Homeopath from Mumbai, who is now a part of the H-Cura Mission, says, "The launch of the H-Cura App was a much-needed initiative during times such as these, where the covid-19 pandemic brings uncertainty and risks. With the restrictions and safety protocols established time and again to curb the spread of infections, the H-Cura platform helps us reach patients faster in a virtual safe space."
The world as we know it is constantly changing. Safety and health have now become a priority. Millions are now prioritizing their physical and mental well-being. With the H-Cura platform, you can do much more. Patients can focus on their health while saving time and money otherwise spent on frequent travels to a physician.
Download the H-Cura App Today > www.h-cura.com
For Play Store Users > https://play.google.com/store/apps/details?id=com.hcurapatient
For App Store Users > https://apps.apple.com/in/app/h-cura/id1584777675
H-Cura is a teleconsultation platform exclusively built for Homeopathy Treatment. The H-Cura app presents doctors and patients with a safe and secure platform to consult online, anytime and anywhere.
www.h-cura.com | [email protected]com | +91 88700 01377
Facebook > https://www.facebook.com/H.CuraApp
Instagram > https://www.instagram.com/h.curaapp/
Linkedin > https://www.linkedin.com/company/h-cura/
Shahi hospital: A symbol of hope for patients with kidney ailments
Shahi Hospital & Stone Clinic is a specialized Urology & Laparoscopy centre in Bihar that provides integrated medical care for all maladies. They have a highly qualified team that has commendably treated patients to recover using different innovative therapies over the years. Dr Ajith Singh, the chairman, has worked out efficient mechanisms for personalized care for each patient for faster recovery. Various medical treatments provide better recovery to the affected patients and cure the issue. With hi-tech equipment to aid their mission of helping patients get cured without surgeries, medications and other treatments have borne fruit.
The hospital undertakes every measure that will help restore the functioning of the kidney after getting rid of the pain. The hospital's specialized services for kidney stones and cancer treatments are based on scientific methods that ensure that each patient's history and issues have been carefully checked and monitored. They have the best treatment programs in the entire state. The hospital aims to provide integrated medical care, putting the patient at ease. Equipped with state-of-the-art equipment, the facility provides pain management programs that help restore the patient's function and quality of life.
Shahi hospital is a facility that endeavours to bring the latest pain-free treatments to patients' doorstep, also the best treatment for urinary/kidney stones, enlarged prostate, ureteric structure, and several others. We provide the best patient care with various multi-disciplinary programs for every kind of kidney and related ailments. Their specialists enable various treatment options under one roof without any hassle for patients with skilled and qualified staff. Anything related to kidneys and more gets attended by the hospital facility. The procedures are met with success due to the guided medical specialists and treatment programs. Shahi hospital facility boasts having licensed doctors and qualified specialists around the clock to tend to patients providing medical attention to patients' pain issues.
Shahi hospital is known to have the largest chain of Urology & Laparoscopy hospitals. It also happens to be the world leader in lithotripsy, laser, and laparoscopy. The hospital has several specialists onboard Dr Shubhangi Singh, a consultant psychiatrist; Dr Kislay Kunal, a General Physician; Dr Utkarsh Singh, a surgeon and urologist and Dr Harshwardhan, heading the Anesthesiology. These doctors are renowned for their care and specialization. There are private exam rooms for the specialists to determine the patients' issues. They decide upon the line of treatment required for the patient's kind of kidney-related issues.
The hospital has been at the forefront of treatment, with a decade of experience and performing more than 200+ successful procedures carried out on patients. The hospital has a highly trained staff that can provide the best treatment and care required for patients suffering from kidney ailments. They have personalized space that enables the best treatment exposure that the patient can find.
The doctor's job is to alleviate the acute and chronic pain that is troubling patients with the help of our skilled team of medical professionals, reducing the patient's functional capacity and quality of life. The achievement of the goal gets done through non-invasive procedures and non-surgical treatments. The expert physicians' constant efforts to study the patient's cases bring out a highly specialized treatment plan at Shahi Hospital so that patients find the best relief possible.
Facebook: https://www.facebook.com/shahihospitalpatna
Instagram: https://www.instagram.com/shahihospitalpatna/