THE TORCH BEARERS OF LATE USTAD GHULAM HUSAIN KHAN'S LEGACY.
Son of Padma Bhushan late Ustad Mushtaq Hussain Khan Sahab (the first recipient of Padma Bhushan & Sangeet Natak Akademi Award) and one of the pioneers of Hindustani classical music.
Ustad Ghulam Siraj Niazi
Ustad Ghulam Siraj Niazi belongs to the Rampur-Sahaswan Gharana and is the grandson of late Padma Bhushan Ustad Mushtaq Hussain Khan, and the son of late Ustad Ghulam Husain Khan.
Initiated into music from the age of nine years, Ustad Ghulam Siraj Niazi was groomed under the worthy guidance of his father, who passed all the major qualities of the Gharana to him in the typical traditional style of Rampur-Sahaswan Gharana.
He's been based in Hong Kong for over two decades. Ustad Ghulam Siraj Niazi is also the Chairman of Padmabhushan Ustad Mushtaq Husain Khan Association (PUMHKA). PUMHKA also runs an academy in Hong Kong named; "Ustad Ghulam Husain Khan Academy".
Smt. Minu Bakshi
A passion for music and a unique musical talent predisposed Minu Bakshi towards music from an early age. A perfectionist by nature, Minu realised that success could only be achieved through rigorous training and hard work.
Her guru for Hindustani classical music for many years was the legendary, late Ustad Ghulam Husain Khan.
Minu Bakshi is extremely proficient and adept at singing in Punjabi. She has two albums of Punjabi wedding songs, 'Lao Mehndiyan I' and 'Lao Mehndiyan II,' to her credit, which has proven to be best sellers.
Smt. Madhumita Ray
A leading New Delhi-based vocalist, Smt. Madhumita Ray received her Hindustani classical training from the legendary late Ustad Ghulam Husain Khan and late Ustad Ghulam Taqi Khan.
Madhumita Ray's singing style follows the Gwalior-Rampur format. She has showcased her versatility by having performed in countless live concerts of the retro genre to contemporary Bollywood singing in many different parts of the world.
She is also a music educator specializing in voice culture therapy. Her voice culture clinics have trained students of folk, jazz, and pop music along with students of Hindustani classical music. Her lecture demonstrations have taken place at well-known conservatories of music, such as Shriram Bharatiya Kala Kendra (New Delhi), Sri Aurobindo Ashram (New Delhi), Music High School (Oslo), and many more.
Vidushi Suman Devgan
Vidushi Suman Devgan is a versatile artist with a sonorous voice. She has made an indelible mark in light classical music, Ghazal, and Sufi music.
Suman Devgan received rigorous training in Hindustani classical music from great maestros of Rampur – Sahaswan Gharana, such as late Ustad Ghulam Husain Khan and Padma Shri late Ustad Hafeez Ahmed Khan.
Suman Devgan is known for her compelling live performances, for which she has gained popular acclaim in cities of India and many parts of the world.
Smt. Madan Bala Sindhu
Trained in Hindustani classical music by the great maestro and pioneer, late Ustad Ghulam Husain Khan of Rampur-Sahaswan Gharana, Smt. Madan Bala Sindhu is a popular vocalist, specialising in Punjabi folk.
Madan Bala Sindhu is also a renowned actress in Punjabi and Urdu musical theatre and was bestowed the prestigious Sangeet Natak Akademi Award by the Government of India for her contribution to the field of folk music of Punjab.
Having played many roles in theatre, Madan Bala Sindhu is well-known for playing the lead role in Sohaila Kapur's "Bebe Ka Chamba."
Ghulam Aziz Khan Niazi
Ghulam Aziz Khan Niazi is the son and disciple of the late Ustad Ghulam Husain Khan and grandson of Padma Bhushan late Ustad Mushtaq Hussain Khan. He belongs to the Rampur-Sahaswan Gharana.
Ghulam Aziz indulged into the family tradition at the tender age of 3 years, under the tutelage of his legendary father with rigorous training of over two decades.
Having given his first public performance at the age of 12 years along with his father, Ghulam Aziz has since then embarked on a journey of performing not only all over India but abroad as well.
Ghulam Aziz has his own music institute named; "Ustad Ghulam Husain Khan Institute". He is also the vice-chairman of Padma Bhushan Ustad Mushtaq Hussain Khan Foundation.
Mehdi Hasan Niazi
Mehdi Hasan Niazi is an Indian classical & light vocalist, songwriter, and composer, and he belongs to the Rampur-Sahaswan Gharana. He is the son of Ustad Ghulam Siraj Niazi, grandson of late Ustad Ghulam Husain Khan, and maternal grandson of late Padma Shri Ustad Ghulam Sadiq Khan.
Born and raised in Hong Kong, Mehdi Hasan Niazi started his music training at the age of 7 from his grandfather, late Ustad Ghulam Husain Khan. After the demise of his grandfather, he continued his training under the guidance of his father and his maternal grandfather.
Throughout his musical journey, he has shared the stage and performed with many legends and eminent artists.
Jai Khurana : Owner of JAI ENTERPRISE and young entrepreneur
The beauty industry has never lacked successful entrepreneurs . In 2005 JAI ENTERPRISE was established and now JAI ENTERPRISE is making to build a beauty salon and cosmetics empire . Founder of jai enterprise mr jai Khurana is young entrepreneur who is very active on social media and has huge fan following know for his fashion sense jai is 19 year entrepreneurs form Rohtak Haryana ' growing his business into next level ' JAI says ' There was no precedent in the beauty space and I had no beauty experience; however I did have a strong merchandising background both in fashion and home, so while beauty was new, the fundamentals were the same but still with huge competition jai enterprise is outstanding and performing extraordinarily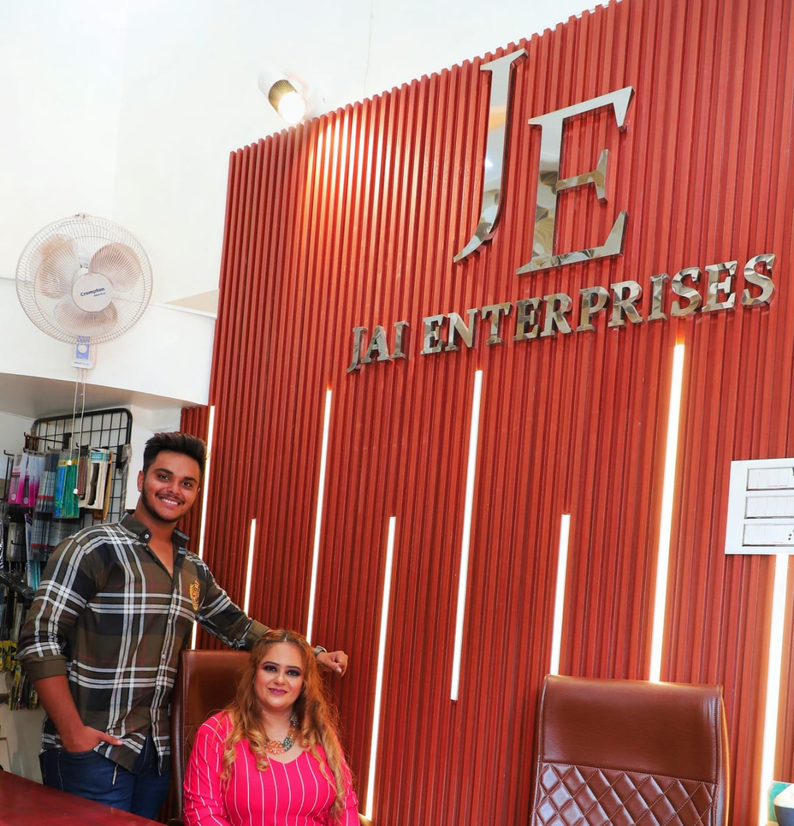 I am someone that while considered accomplished and successful, has been plagued most of my life with insecurities, doubts, and fears. I am working through this and as I do, want to help anyone else in this process."
It's never too late to start over—ever! And surround yourself with people who will encourage you not to give up."
Bebe Nanki ji NGO & Param Jyot Foundation celebrated 'Azaadi ka Amrit Mahotsav' to commemorate 75 years of India's Independence
Bebe Nanki Ji NGO and Param Jyot Foundation, under the guidance of their Chairperson, Amrita Kaur, have been working towards the welfare of society in every possible way. Additionally, Guru Nanak Sukh Shala based out of Old Rajinder Nagar, New Delhi which is run by Delhi Sikh Gurdwara Management Committee under the chairperson Amrita Kaur is not only providing a shelter to senior citizens but home to everyone.
Chairperson Amrita Kaur makes sure that every event and festival is well celebrated at an old age home to keep the elders happy and high-spirited. Similarly, to celebrate Independence Day or Azaadi ka Amrit Mahotsav', the team made sure to organize a full-fledged program that included dance, music, theatre etc.
The event commenced with a welcome speech by Amrita Kaur followed by some wonderful music and dance performances by professional artists and the elders of the old age home. Post that, Natshala a well-known theatre group based out of Delhi NCR performed a play named Partition 1947 directed by Vishnu Grover. A compilation of three stories Amritsar aa Gaya, Raavi Paar and Toba Tek Singh showed the agony and pain suffered by Indians. The performance was so powerful and soul-stirring that the audience couldn't control their tears.
Additionally, Natshala was invited to train the elders for a drama performance. After such heavy and intense acts, the elders were able to spread smiles and giggles on the faces of the audience through an impactful play named Sneeze written by Anton Chekhov and directed by team Natshala. The play was satirical comedy in nature and the senior citizens left no stone unturned to take the audience on a laughter riot. They proved and motivated the audience that age can just be a number if determination and hard work are strong enough.
Chairperson Amrita Kaur encapsulates her experience by saying, I am blessed to have numerous parents. I feel that I am the chosen one by God that I can serve all these elderly with
the support of my team and the Delhi Gurudwara Committee. We try to make sure that we serve our elders with all their needs and on top of it, we keep on organizing events and activities to make sure that their inner child always stays happy and alive.
And, on such an important day like Independence Day, how can we miss a chance to make it not special for them. Purposely, we kept Partition 1947 as one of the acts because 14th August is also a Partition Horrors Remembrance Day and who would understand the pain of those days more than this age group? I feel sincere gratitude that I am able to do something for these wonderful people and seek their blessings by it." The event was a big success and was conducted in the presence of some dignitaries including Harmeet Singh Kalka (President DSGMC), Dr Raju Chadha (Wave One) and Rana Paramjeet Singh (Ex Counsellor, Rajinder Singh).
Twilight Organic: A women empowerment saying yes to an organic environment
The pandemic period of COVID-19 made many give up but the winner is born to live and let people live surrounding them. The same happened with one of the emerging leaders of the society who was hit hard by the statement by Sandeep Maheshwari in a video. The statement was that everyone is talking about the job but how many were thinking to create jobs? The leader got inspired by it and their time internal feeling to do something unique got the push to brainstorming.
The personality has great skin and for that has got positive comments with a question of revealing the secret of beautiful skin. Love for organic products to serve own skin has forced to get started thinking to give the natural gift to society with a chemical-free environment to feel.
The goal of organic products is triggered towards the research of daily needs of products and their composition and ingredients. Then decided to start with organic soaps and skincare products.
The affection for the benefits of aroma oils made the origin of Twilight Organic in existence with the invention of candles with diverse aroma oils mixed with other ingredients. The reason behind the aroma oils candle effect was to find relaxation to senses for emotional stability and health as well.
Then the series of products started coming as natural and organic value holders maximum without any preservatives. In case any preservatives were in need then natural extracts were used for the purpose instead of synthetic. The products range in soaps, scrubs, bath salts, organic body butter, etc.
Twilight Organic takes care of packaging too so that products will not react with it. Cloth bags, glass containers, or high-quality containers are used for packaging the products with gift and shipping facilities included with each order. There are different products for skin care issues to get healed.
The products are free from animal testing and near to Ayurveda and nature to provide the best to the skin. These are pollution-free and eco-friendly products. Twilight Organic is supporting our Indian economy with a job opportunity for women as a talented crowd got already involved and many more is to get included soon.
There are new products on the list such as
Charcoal scrub and charcoal pack for anti-acne and skin lightening.
Pearl scrub and pack for skin whitening.
Chocolate scrub and chocolate pack for dry skin
The shampoo bar is a special product for healing dry and damaged hair, dandruff, and hair fall. It's handy to carry and natural care for your hair. A great idea is no more plastic bottles to carry.
There can be many more additions in the forthcoming years as per the need of the environment and people. Twilight Organic is focused on the objectives at the base of the organization.
The future goal of Twilight Organic is to make more people influenced by natural products to get a long-lasting effect for a healthy body with healthy skin. Creating job opportunities is also one of the main objectives of Twilight Organic. The organization believes in creating a better future for the next generation with the asset of the natural environment. For more details visit http://www.Twilightorganic.com.