Gokul Srinivas and his journey with his venture MinionLabs
Gokul Shrinivas was a state hockey player before an injury ended his career and his prospects for any other for a long time. The injury affected his 10th board, limiting his picks for college. "Four-Hundred-plus rejections, can you believe it," he says. Later, while interning for Amazon in IT, he realised electronics was his true love. MinionLabs, a Bengaluru-based startup that helps businesses and buildings become energy efficient, was born out of his final year academic project. And Gokul Shrinivas, aged 26, who is founder and CEO, is determined to see it through.
Energy Monitoring is a complex function that requires either the installation of a traditional meter or a smart meter, with sensors on every device in a house or a building, involving huge capex. The complexity of doing the right thing often dissuades positive action. MinionLabs created a smart AI (artificial intelligence)- and ML (machine learning)-enabled wireless device, which has to be installed only in the Bus Bar Panel Board of a building. The 'Minion' can fit in a palm, and detect the activity of each appliance in a home, office or a factory, without any new wiring or sensors.
It uses the unique noise or energy signature an electronic device produces when switched on, and collects up to four million data points per second. The user gets real-time device-level energy consumption analytics of usage and savings on a mobile application. Since it monitors noise signatures, it can also predict when any appliance needs repair, and alerts the user, saving time and cost. The company says it is GDPR compliant.
According to a World Wide Fund for Nature-India evaluation in 2020, MinionLabs has enabled a lifetime savings of 5.25 million kWh of electricity and reduced 3,712 metric tonnes of CO2 emissions. Seventy-three Minions are deployed at 52 buildings across Bengaluru, Chennai and the UAE, with customers including Fortis Healthcare, Cisco Systems, Accenture, MRF India, MSEDCL, Robert Bosch and Ford India. It claims to offer up to 30 percent energy consumption savings per annum.
During Covid-19, as offices and industries – MinionLabs' target market – shut down, it pivoted to energy management for gated community buildings to survive.
"The technology MinionLabs uses has been around for a long time, but it has productised it successfully, and its self-learning model will accrue more value over time as the Minion gains market share. MinionLabs helps reduce capital expenditure and reduce electricity wastage," says Mohan Kumaramangalam, working president, Tamil Nadu Congress Committee, who led pre-seed funding round from Indian Angel Network in March 2020.
"Although the recognition is an individual one, getting here was certainly not a one-man's show. I'd like to take this opportunity and thank everyone who has been a part of my journey. A huge thanks to our early backers, my incredible team, investors, friends, and well-wishers who continued to support and pushed me forward. When I first decided to start MinionLabs, I barely knew what entrepreneurship would really mean to me. But there were a couple of things that I was certain of:
1. I wanted to build something great that could help people save their energy costs, reduce their carbon footprint, and save our earth from climate change.
2. I got rejected in more than 400+ job interviews due to my 10th Standard marks being less than 60 percent, but I wanted to prove myself to the world. I also wanted to show my capabilities and to change the method of hiring through skills and not just by marks.
And it all happened in India, where my values truly resonate.
Currently, MinionLabs is in its early stage, but it has been the proudest decision I have ever made. At the age of 26, along with my team members, we are all pushing boundaries every single day – from research & development to experimenting and building something that can truly make an impact in this world.
I can't wait to see my idea growing, and my vision becoming a reality one day – to turn our buildings autonomous that can take pre-informed decisions through Artificial Intelligence for energy efficiency and productivity," says Gokul Shrinivas.
Jai Khurana : Owner of JAI ENTERPRISE and young entrepreneur
The beauty industry has never lacked successful entrepreneurs . In 2005 JAI ENTERPRISE was established and now JAI ENTERPRISE is making to build a beauty salon and cosmetics empire . Founder of jai enterprise mr jai Khurana is young entrepreneur who is very active on social media and has huge fan following know for his fashion sense jai is 19 year entrepreneurs form Rohtak Haryana ' growing his business into next level ' JAI says ' There was no precedent in the beauty space and I had no beauty experience; however I did have a strong merchandising background both in fashion and home, so while beauty was new, the fundamentals were the same but still with huge competition jai enterprise is outstanding and performing extraordinarily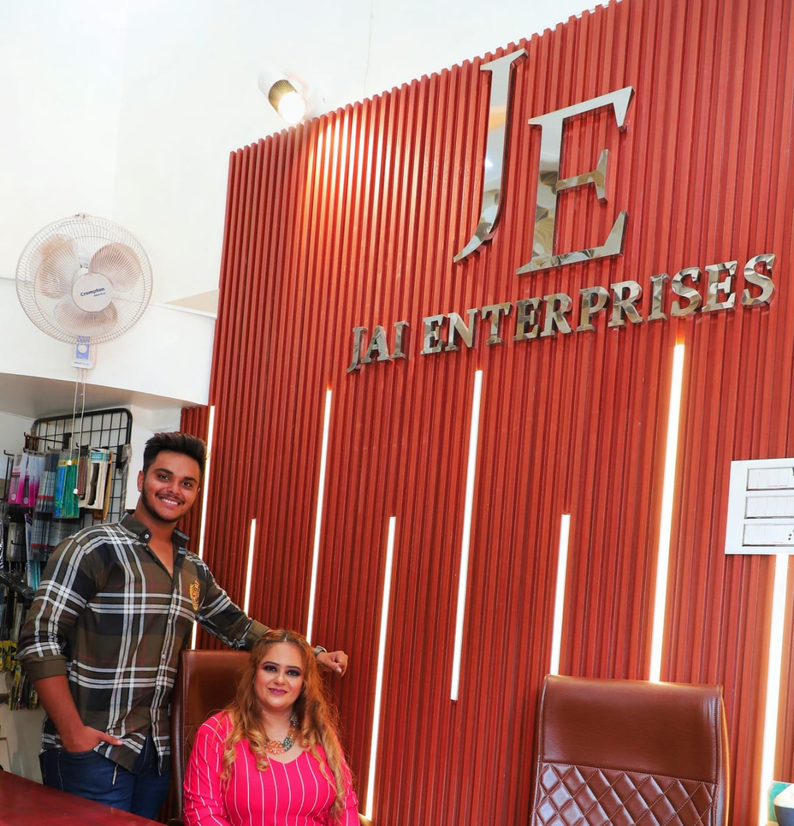 I am someone that while considered accomplished and successful, has been plagued most of my life with insecurities, doubts, and fears. I am working through this and as I do, want to help anyone else in this process."
It's never too late to start over—ever! And surround yourself with people who will encourage you not to give up."
Bebe Nanki ji NGO & Param Jyot Foundation celebrated 'Azaadi ka Amrit Mahotsav' to commemorate 75 years of India's Independence
Bebe Nanki Ji NGO and Param Jyot Foundation, under the guidance of their Chairperson, Amrita Kaur, have been working towards the welfare of society in every possible way. Additionally, Guru Nanak Sukh Shala based out of Old Rajinder Nagar, New Delhi which is run by Delhi Sikh Gurdwara Management Committee under the chairperson Amrita Kaur is not only providing a shelter to senior citizens but home to everyone.
Chairperson Amrita Kaur makes sure that every event and festival is well celebrated at an old age home to keep the elders happy and high-spirited. Similarly, to celebrate Independence Day or Azaadi ka Amrit Mahotsav', the team made sure to organize a full-fledged program that included dance, music, theatre etc.
The event commenced with a welcome speech by Amrita Kaur followed by some wonderful music and dance performances by professional artists and the elders of the old age home. Post that, Natshala a well-known theatre group based out of Delhi NCR performed a play named Partition 1947 directed by Vishnu Grover. A compilation of three stories Amritsar aa Gaya, Raavi Paar and Toba Tek Singh showed the agony and pain suffered by Indians. The performance was so powerful and soul-stirring that the audience couldn't control their tears.
Additionally, Natshala was invited to train the elders for a drama performance. After such heavy and intense acts, the elders were able to spread smiles and giggles on the faces of the audience through an impactful play named Sneeze written by Anton Chekhov and directed by team Natshala. The play was satirical comedy in nature and the senior citizens left no stone unturned to take the audience on a laughter riot. They proved and motivated the audience that age can just be a number if determination and hard work are strong enough.
Chairperson Amrita Kaur encapsulates her experience by saying, I am blessed to have numerous parents. I feel that I am the chosen one by God that I can serve all these elderly with
the support of my team and the Delhi Gurudwara Committee. We try to make sure that we serve our elders with all their needs and on top of it, we keep on organizing events and activities to make sure that their inner child always stays happy and alive.
And, on such an important day like Independence Day, how can we miss a chance to make it not special for them. Purposely, we kept Partition 1947 as one of the acts because 14th August is also a Partition Horrors Remembrance Day and who would understand the pain of those days more than this age group? I feel sincere gratitude that I am able to do something for these wonderful people and seek their blessings by it." The event was a big success and was conducted in the presence of some dignitaries including Harmeet Singh Kalka (President DSGMC), Dr Raju Chadha (Wave One) and Rana Paramjeet Singh (Ex Counsellor, Rajinder Singh).
Twilight Organic: A women empowerment saying yes to an organic environment
The pandemic period of COVID-19 made many give up but the winner is born to live and let people live surrounding them. The same happened with one of the emerging leaders of the society who was hit hard by the statement by Sandeep Maheshwari in a video. The statement was that everyone is talking about the job but how many were thinking to create jobs? The leader got inspired by it and their time internal feeling to do something unique got the push to brainstorming.
The personality has great skin and for that has got positive comments with a question of revealing the secret of beautiful skin. Love for organic products to serve own skin has forced to get started thinking to give the natural gift to society with a chemical-free environment to feel.
The goal of organic products is triggered towards the research of daily needs of products and their composition and ingredients. Then decided to start with organic soaps and skincare products.
The affection for the benefits of aroma oils made the origin of Twilight Organic in existence with the invention of candles with diverse aroma oils mixed with other ingredients. The reason behind the aroma oils candle effect was to find relaxation to senses for emotional stability and health as well.
Then the series of products started coming as natural and organic value holders maximum without any preservatives. In case any preservatives were in need then natural extracts were used for the purpose instead of synthetic. The products range in soaps, scrubs, bath salts, organic body butter, etc.
Twilight Organic takes care of packaging too so that products will not react with it. Cloth bags, glass containers, or high-quality containers are used for packaging the products with gift and shipping facilities included with each order. There are different products for skin care issues to get healed.
The products are free from animal testing and near to Ayurveda and nature to provide the best to the skin. These are pollution-free and eco-friendly products. Twilight Organic is supporting our Indian economy with a job opportunity for women as a talented crowd got already involved and many more is to get included soon.
There are new products on the list such as
Charcoal scrub and charcoal pack for anti-acne and skin lightening.
Pearl scrub and pack for skin whitening.
Chocolate scrub and chocolate pack for dry skin
The shampoo bar is a special product for healing dry and damaged hair, dandruff, and hair fall. It's handy to carry and natural care for your hair. A great idea is no more plastic bottles to carry.
There can be many more additions in the forthcoming years as per the need of the environment and people. Twilight Organic is focused on the objectives at the base of the organization.
The future goal of Twilight Organic is to make more people influenced by natural products to get a long-lasting effect for a healthy body with healthy skin. Creating job opportunities is also one of the main objectives of Twilight Organic. The organization believes in creating a better future for the next generation with the asset of the natural environment. For more details visit http://www.Twilightorganic.com.