SHARK TANK vs. GODI MEDIA You have to watch this latest funny video Spoof of Shark Tank.
Dhamaal creators have taken a funny hit on everyone's current binge-watch favourite Shark Tank. Baby Shark Tank is a spoof that you have to watch! This viral video of baby sharks messing with an even goofier contestant is worth your ten minutes. Dhamaal Creators is a growing channel and deserves all the love and support for the entertaining videos that they put out every week. High-quality content, concepts, and comics from start to execution. This will be your go-to YouTube binge-watch channel now!
This video is a blast of laughter right from the beginning. It stars two huge names in the comedy industry. KK Goswami, best remembered as Gabru from the good old days, and ABBAS RIZVI, best known for his Saurabh Show, another series on Dhamaal Creators. He is also the Producer and Dhamaal Creator's channel founder.
KK Goswami plays Ashneer Grover under the alias Asheel Londa Grover and lands some of his catchphrases worth comedy gold. Abbas Rizvi pretends to be a contestant and comes with a hilarious pitch of his business idea, "making the impossible Goa plan possible." Rajni Jahangir plays Namita Thapar as Namita Thappad and makes the scenes a real knee Slapper with similar Namita-like originality from the show.
Gudu Dada plays Anupam Mittal as hilarious Anupam Chappal and pulls off an outstanding performance. Irfan Bachkana and Shoiab Sangram also make an appearance as two more judges
Comedy is packed right in with all the judges being short in height, thus the funny name of the spoof show 'Baby Shark Tank' and the exaggerated enthusiasm of the contestant with a goofy idea as long as a summer day.
The contestant proposes a trip to Goa, which is just to take the judges along, given his friends also dipped on him. The spoof runs along with perfect comic timing portraying the judges' characters with precision. The contestant's idea is made a laughing stock by the baby sharks and has a final twist at the end. With hilarious discounts and a business idea that "will not run," as said by Asheel Grover and how it is all "Doglapan," it will get you and your shark tank fanatic friends cracking up.
If you're still not convinced to watch this video that still has us cracking up, some of the comments under the video read, "Loved the Chota Ashneer," "Abbas Rizvi executed the best energy!"
What are you waiting for? Go give the video a watch and make sure to watch till the very hand for the biggest twist of the century that will leave you rolling on the floor laughing for real!
Dhamaal creators on YouTube make such funny videos and content. Make sure to subscribe to their channel to seal the deal of your daily dose of laughter.
Make sure to like the video, comment your favourite Doglapan moment and share it amongst your friends and make sure to ring the bell to get notified when the Dhamaal creators curate a new piece of content.
YouTube: https://youtu.be/OdSMz39wYg8
Jai Khurana : Owner of JAI ENTERPRISE and young entrepreneur
The beauty industry has never lacked successful entrepreneurs . In 2005 JAI ENTERPRISE was established and now JAI ENTERPRISE is making to build a beauty salon and cosmetics empire . Founder of jai enterprise mr jai Khurana is young entrepreneur who is very active on social media and has huge fan following know for his fashion sense jai is 19 year entrepreneurs form Rohtak Haryana ' growing his business into next level ' JAI says ' There was no precedent in the beauty space and I had no beauty experience; however I did have a strong merchandising background both in fashion and home, so while beauty was new, the fundamentals were the same but still with huge competition jai enterprise is outstanding and performing extraordinarily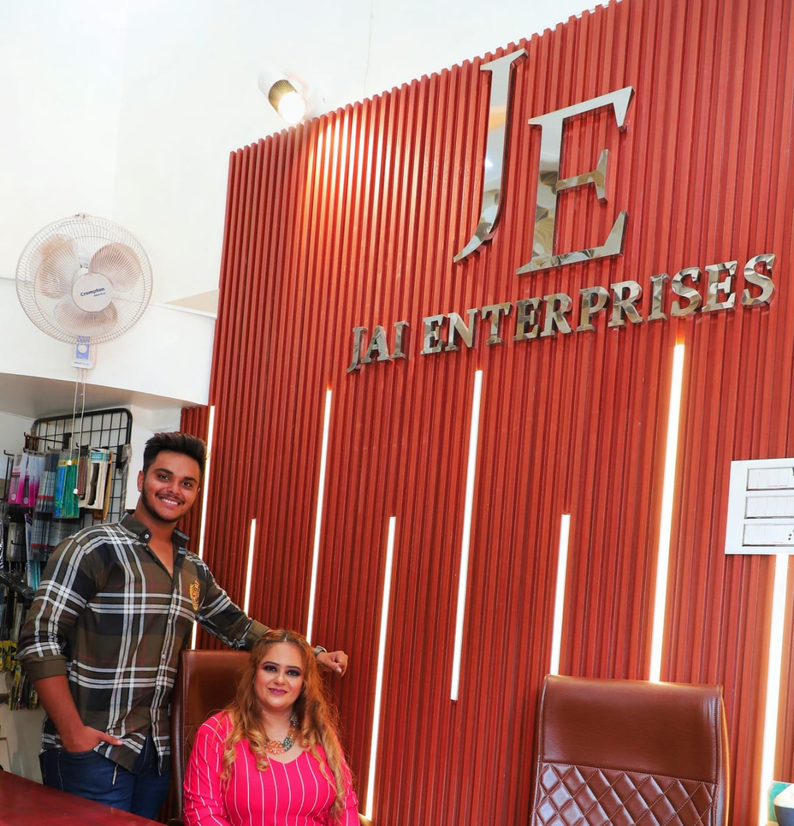 I am someone that while considered accomplished and successful, has been plagued most of my life with insecurities, doubts, and fears. I am working through this and as I do, want to help anyone else in this process."
It's never too late to start over—ever! And surround yourself with people who will encourage you not to give up."
Jay Mishra: A Singer Who's Ready To Shine With His Voice In Bollywood With Two Upcoming Singles
Music is something that brings people closer to themselves, and that's why we as humans thrive to listen more songs and empty out our emotions through music. Over the years, we have heard many new voices getting the stage they deserve and the recognition they deserve through their songs in Bollywood films. With singers who are on the top of the list coming from no where, it is not wrong to say that we as fans admire new voices. One such upcoming singer embraced with talent and a soulful voice is Jay Mishra.
Jay Mishra who hails out from the city of dreams Mumbai will be melting some hearts with his voice in upcoming Bollywood films which include Abhishek Saxena's directorial Saroj Ka Rishta which stars Sanah Kapoor and Kumud Mishra in lead roles and Arshad Warsi and Meher Vij's Banda Singh.
Jay Mishra's entry through the doors of Bollywood is not overnight. One can purely see his dedication towards music and singing from the covers he constantly keeps posting on his Instagram account. Before starting his singing journey in the Music Industry in 2017, he used performed at various college festa and contests to keep himself in the league of competitions. Mishra previously made buzz for winning RcLit's Secret Superstar, which was a singing contest, and for performing with legend like Abhijeet Bhattacharya. With two upcoming songs in much anticipated movies of 2022, Jay Mishra has strongly seen a growth through his constant hard work in the industry for the past 5 years.
Jay Mishra has also shared several musical jams with renowned singer Rahul Jain, as he is the composer of the two upcoming songs to which Jay has given his voice. Apart from this, he constantly conducts musical jams with Kunal Verma, who has wrote the lyrics of his upcoming songs. Jay Mishra has also worked with Anand Raj Anand as a Assistant and shared a couple of sessions of Jeet Ganguly.
Apart from being a professional singer, Jay Mishra is also a part-time writer and writes poetry and original songs as a hobby, the sneak peeks of which can be seen and listened on his Instagram profile where he keeps updating new covers and remarkable poetry pieces in his own voice. Nevertheless, people who have been listening to his cover songs through Instagram and other social networks are waiting for his first Bollywood song to release, which is a moment of celebration and delight for everyone who has became a fan of his natural and mesmerising voice over the years.
Shaurya Naman embraced repeated Gandhi Sewa Ratna and The first international honor of Excellence award
First international honor of excellence award to Mr. Shivam Shahi and Mr.Shivendra Rawat followed by Gandhi Sewa Ratna Award,22. International Open University Of Humanity Science and Peace with wac people council has awarded 20 celebrities from the country through actor Rajpal Yadav in the capital city Bhopal of Madhya Pradesh. By honoring diverse talent from various fields of society, actor Rajpal Yadav said that there are several heroes present in our society to protect and guide us 24×7. Honor these types of heroes of our society is a matter of pride as per Rajpal Yadav's statement on the occasion. In the same event, Actor Rajpal Yadav got honored with the honorary degree of doctorate.
Shaurya Naman foundation is dedicated to serving and honoring the family of those people who sacrificed their lives for the nation. Hardcore efforts of the organization over the last 2 years made the accomplishment of 3000 ventilator support, construction of 5monument with the care and renovation of 40 other existing monuments. The foundation is involved in providing health and education with pilgrimage visits to family of martyr.
When asked for the honor, Mr. Shahi said that the founder of the organization, national president Mr. Ramesh Chandra Sharma is clear with his feelings and purpose. Mr. Sharma told that they were the children of those warrior families who left us for service to the nation. He got the responsibility of Uttar Pradesh because of this reason.

Shaurya Naman foundation members devote their passionate time to the organization after their study, and job hours. They have achieved International recognition in just 3 years of their services due to this reason.
Mr . Rawat expressed that they got the Gandhi Sewa honor in 2021 for the first time and this year the repeated award filled them with positive energy. He continued that the followed international awards made them more responsible. Both the personalities, Mr. Shivam Shahi and Mr.Shivendra Rawat are from the Gorakpur district and presently working in Indoor.
The general secretary, Mr.Rawat devoted his gratitude to the Shaurya Naman family to the martyr and also presented a token of thanks to Dr.V.K Bajaj there.
He requested the citizens to inform about the martyr's family who is struggling with problems located anywhere. People can inform them about those martyr families via www.shauryanaman.org or 9111010007.
After the return from honor to Indore president Mr. Ramesh Sharma, secretory Kavita Sharma, treasurer Vinay Dixit, national coordinator Vineet Shukla, Dinesh Patidar, Rohit Chaturvediand Ravi Tiwari welcome him with their best wishes.
https://www.facebook.com/ShauryaNamanNGO/
Follow the link to become a part of the organization.