Introducing FastKhelo: the World's First Micro-Fantasy App. Fantasy Khelne ka naya Tarika 
FastKhelo has launched its Beta version on 15th May 2022
Fast Khelo Technologies Pvt Ltd has launched FastKhelo— The World's Fist Micro-Fantasy App. Fantasy Khelne ka Naya Tarika
FastKhelo is the new way to play fantasy sports in bite size contests so that you get instant results and win big cash prizes in 5 minutes!
On FastKhelo players use probability and their skill to analyse and predict the outcome of the next ball, collect points and at the end of the over win big cash.
We have revolutionized fantasy sports in India
Made In India for India
#FastKhelo #FastJeeto
FastKhelo is the Fantasy App for those with need for speed
With FastKhelo Players Now don't just watch every ball, but play it
How FastKhelo is Different from other Apps
Each contest only lasts an over so that players get instant result.
Fast Result: Each contest only lasts an over so instead of waiting for 4 hours, players now know the result of the contest in 5 minutes
New Format: It is a new and exciting format that no one has played before
Fast re-buy: Now players can play up to 40 rounds in a match, and also start with a clean state if they lose in the previous round
Full Control: Players feel engaged in the match, winning/losing on each ball
Play When you Want: Players can Start and stop playing whenever you feel like, whichever over they watch they can play
Points and Scoring
The World's First Micro Fantasy Game needed a totally new scoring system
Our team of Math PHDs analyzed ball by ball and over by over data of All IPL matches played since the beginning to IPL 2021.
After analyzing them we calculated the probability of each outcome in each over and removed some outliers to smoothen the data and finalized our Points System.
The points change after each over and they depend on the calculated probability of each outcome in each over.
Simple rule to remember—
Higher the points the less likely the outcome
Lower the points the more likely the outcome
One Example to illustrate the Points system
In the 1st Over of the 1st Innings, the batsmen are trying to understand the pitch and therefore play caustically, rarely hitting 6s—Therefore players get 500 points for it.
In the 20th Over of the 1st Innings, the batsmen are all swinging for the fences and therefore hitting many 6s—Now players only get 90 points for the predicting correctly.
Founder Statement
Devansh Mittal, Founder of FastKhelo states, "We are very excited to introduce the concept of Micro Fantasy to the world. FastKhelo fits perfectly with our generation's shorter attention spans and need for Instant Gratification. It is completely different than anything that is available in the market
FastKhelo is a category disrupting real-time micro fantasy game that will revolutionize the way India plays fantasy sports. We have built a game that allows Indians to tap into their existing habit of predicting the outcome of the next cricket ball to participate in bite-sized fantasy contests lasting 5 minutes (vs. duration of a match).
With our proprietary algorithm and user-friendly UI/UX, we enable users to test their knowledge against not only their friends but also against millions of other players simultaneously. Players win not just bragging rights but also big real money prizes.
Indian Fantasy Players are seeking new formats, and FastKhelo solves consumer pain points. FastKhelo is to existing fantasy apps what Instagram/TikTok is to Facebook."
According to credible sources, FastKhelo has affiliated them-selves to a well-known Fantasy Gaming Market expert, who have also partnered with popular entity in Fantasy Gaming like FIFS. FastKhelo has officially partnered with Albatross Media for a complete 360 degrees Online Fantasy Sports Marketing Campaign. Albatross Media will handle their entire marketing process, including the creation of unique strategies on various platforms, and a hundred percent coverage of the market. Their website and social media content will also be managed by them, with each article, post and blog filled with credible information on sports. Albatross Media has also helped several other successful online gaming platforms to find a secure place in the market.
Jai Khurana : Owner of JAI ENTERPRISE and young entrepreneur
The beauty industry has never lacked successful entrepreneurs . In 2005 JAI ENTERPRISE was established and now JAI ENTERPRISE is making to build a beauty salon and cosmetics empire . Founder of jai enterprise mr jai Khurana is young entrepreneur who is very active on social media and has huge fan following know for his fashion sense jai is 19 year entrepreneurs form Rohtak Haryana ' growing his business into next level ' JAI says ' There was no precedent in the beauty space and I had no beauty experience; however I did have a strong merchandising background both in fashion and home, so while beauty was new, the fundamentals were the same but still with huge competition jai enterprise is outstanding and performing extraordinarily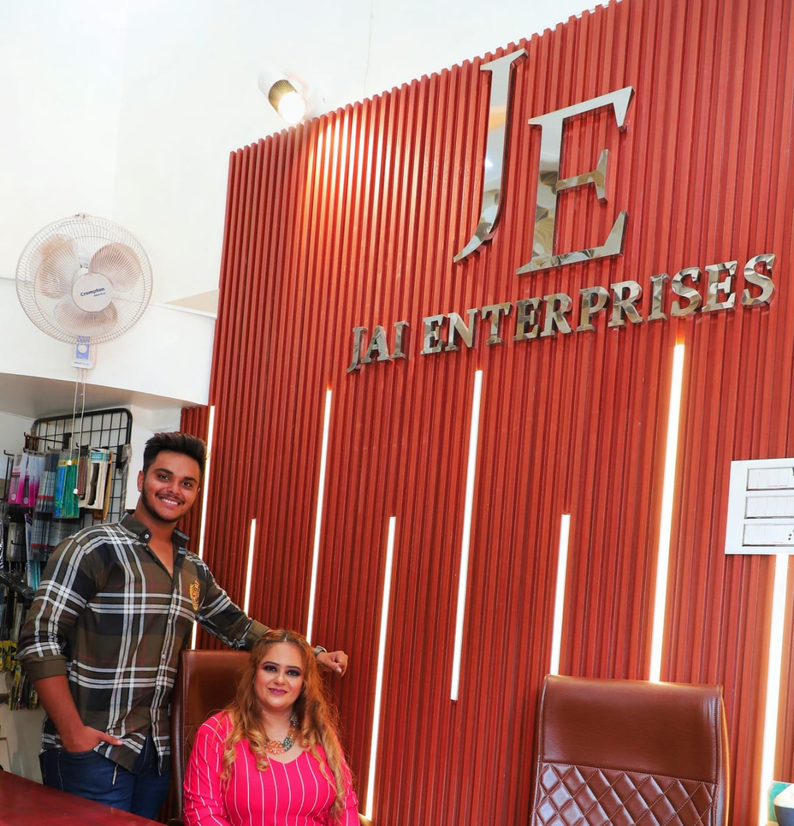 I am someone that while considered accomplished and successful, has been plagued most of my life with insecurities, doubts, and fears. I am working through this and as I do, want to help anyone else in this process."
It's never too late to start over—ever! And surround yourself with people who will encourage you not to give up."
Jay Mishra: A Singer Who's Ready To Shine With His Voice In Bollywood With Two Upcoming Singles
Music is something that brings people closer to themselves, and that's why we as humans thrive to listen more songs and empty out our emotions through music. Over the years, we have heard many new voices getting the stage they deserve and the recognition they deserve through their songs in Bollywood films. With singers who are on the top of the list coming from no where, it is not wrong to say that we as fans admire new voices. One such upcoming singer embraced with talent and a soulful voice is Jay Mishra.
Jay Mishra who hails out from the city of dreams Mumbai will be melting some hearts with his voice in upcoming Bollywood films which include Abhishek Saxena's directorial Saroj Ka Rishta which stars Sanah Kapoor and Kumud Mishra in lead roles and Arshad Warsi and Meher Vij's Banda Singh.
Jay Mishra's entry through the doors of Bollywood is not overnight. One can purely see his dedication towards music and singing from the covers he constantly keeps posting on his Instagram account. Before starting his singing journey in the Music Industry in 2017, he used performed at various college festa and contests to keep himself in the league of competitions. Mishra previously made buzz for winning RcLit's Secret Superstar, which was a singing contest, and for performing with legend like Abhijeet Bhattacharya. With two upcoming songs in much anticipated movies of 2022, Jay Mishra has strongly seen a growth through his constant hard work in the industry for the past 5 years.
Jay Mishra has also shared several musical jams with renowned singer Rahul Jain, as he is the composer of the two upcoming songs to which Jay has given his voice. Apart from this, he constantly conducts musical jams with Kunal Verma, who has wrote the lyrics of his upcoming songs. Jay Mishra has also worked with Anand Raj Anand as a Assistant and shared a couple of sessions of Jeet Ganguly.
Apart from being a professional singer, Jay Mishra is also a part-time writer and writes poetry and original songs as a hobby, the sneak peeks of which can be seen and listened on his Instagram profile where he keeps updating new covers and remarkable poetry pieces in his own voice. Nevertheless, people who have been listening to his cover songs through Instagram and other social networks are waiting for his first Bollywood song to release, which is a moment of celebration and delight for everyone who has became a fan of his natural and mesmerising voice over the years.
Shaurya Naman embraced repeated Gandhi Sewa Ratna and The first international honor of Excellence award
First international honor of excellence award to Mr. Shivam Shahi and Mr.Shivendra Rawat followed by Gandhi Sewa Ratna Award,22. International Open University Of Humanity Science and Peace with wac people council has awarded 20 celebrities from the country through actor Rajpal Yadav in the capital city Bhopal of Madhya Pradesh. By honoring diverse talent from various fields of society, actor Rajpal Yadav said that there are several heroes present in our society to protect and guide us 24×7. Honor these types of heroes of our society is a matter of pride as per Rajpal Yadav's statement on the occasion. In the same event, Actor Rajpal Yadav got honored with the honorary degree of doctorate.
Shaurya Naman foundation is dedicated to serving and honoring the family of those people who sacrificed their lives for the nation. Hardcore efforts of the organization over the last 2 years made the accomplishment of 3000 ventilator support, construction of 5monument with the care and renovation of 40 other existing monuments. The foundation is involved in providing health and education with pilgrimage visits to family of martyr.
When asked for the honor, Mr. Shahi said that the founder of the organization, national president Mr. Ramesh Chandra Sharma is clear with his feelings and purpose. Mr. Sharma told that they were the children of those warrior families who left us for service to the nation. He got the responsibility of Uttar Pradesh because of this reason.

Shaurya Naman foundation members devote their passionate time to the organization after their study, and job hours. They have achieved International recognition in just 3 years of their services due to this reason.
Mr . Rawat expressed that they got the Gandhi Sewa honor in 2021 for the first time and this year the repeated award filled them with positive energy. He continued that the followed international awards made them more responsible. Both the personalities, Mr. Shivam Shahi and Mr.Shivendra Rawat are from the Gorakpur district and presently working in Indoor.
The general secretary, Mr.Rawat devoted his gratitude to the Shaurya Naman family to the martyr and also presented a token of thanks to Dr.V.K Bajaj there.
He requested the citizens to inform about the martyr's family who is struggling with problems located anywhere. People can inform them about those martyr families via www.shauryanaman.org or 9111010007.
After the return from honor to Indore president Mr. Ramesh Sharma, secretory Kavita Sharma, treasurer Vinay Dixit, national coordinator Vineet Shukla, Dinesh Patidar, Rohit Chaturvediand Ravi Tiwari welcome him with their best wishes.
https://www.facebook.com/ShauryaNamanNGO/
Follow the link to become a part of the organization.