THREE BOOKS YOU MUST DEFINITELY READ FT. REPUTED AUTHORS NIRAJA BANDI, DR. ROSIE PATANGIA, SUMANA ACHERJEE MUKHERJEE
Books shape the personality of a human being. Without books, life is incomplete. Authors are some of the most creative minds who share their thoughts in the form of books. Here we recommend three must read books by reputed authors Niraja Bandi, Dr. Rosie Patangia, and Sumana Acherjee Mukherjee.
The Corporate Napoleon by Niraja Bandi
How much can the history of a man who lived more than 200 years ago tell us today? What can we learn from people who lived in very different times and dealt with very different problems?
The Corporate Napoleon is a unique attempt to incorporate historical perspectives into business management. Following the story of Napoleon Bonaparte through his rise to the highest office in Europe and his subsequent fall and defeat, the book attempts to make them relatable to contemporary corporate life.
The book attempts to blend motivational narrative into a historical framework for the enjoyment of a broad cross-section of readers.
Niraja Bandi has been working as a people's manager for the past 23 years. She boasts of vast experience in the financial services industry, more so in the management domain.
Having recently completed an executive management development program through IIM, she currently has a broad base of knowledge which allows her to explore many topics. Some of her key interests include contributing to academics, mentoring team members, advocating for women's empowerment, and making society a better place. Traveling, listening to good music, watching cricket and badminton, reading, and participating in charity events are some of her favorite hobbies. That aside, she enjoys clicking pictures regularly, even though she is not a professional photographer.
Her passion for writing started when she was very young. Well, though she had the passion to write since long, never really explored much as she was busy with her professional career. In 2020, many of us had to work from home due to lockdown. She had some free time for herself wherein she used to browse some posts on social media. She started attending webinars on a wide range of topics to utilise her time effectively. One such webinar actually motivated her to start her journey as an author. Her books focus on educating, informing as well as entertaining the readers. She does not want to restrict herself to any specific genre. She would like to experiment writing all genres of books.
She writes blogs for One million Talent's Audience. She also mentors the One million talent team.
She is a published author of 6 books namely Empower to Transform, The World as a Neural Network, Against the Storm, The Ones Who Dare, Sniffles and Smiles and The Corporate Napoleon. All her books have become bestsellers.
She is a recipient of the queen award, Prerana Ratna Samman award, Criticspace literary award, The pride of India award, Forever Star world awards, Sahitya Ratna Award, Bankim Chandra Chatterjee Kala Samman Award, Rabindranath Tagore International Prize of Art award, Woman of substance award, Golden book award, etc.
Order it here:
Life Changing Quotes by Dr. Rosie Patangia
Quotes are universal. It appeals to the hearts of everyone. It triggers emotions, feelings and curiosity. It leaves an indelible impact on the minds of everyone. Every thought that we express through our words has a power to change us physically, mentally, emotionally and spiritually. Composing Quotes is my passion, something which I love and it comes to me spontaneously when I am at my best. I began my journey of writer since my childhood days.
This book is a conglomeration of a variety of quotes on the different aspects of life. It contains a rainbow of thoughts amalgamated together. The writer has tried with her heart and soul to put down in black and white certain observations that she has come across during her journey of life. The words used in the quotes are easy to grasp and insightful. The book is the outcome of the intense love of the writer for the upliftment of humanity and her constant desire to leave a footprint for the future generations.
The 200 Life changing quotes is woven around different aspects such as success, nature, wealth. life, self-love, thoughts, beauty, friendship, love, happiness, action, prayer, team work, time, music, leader, smile, visualization, attitude. Metaphors and similes have been used by the writer. Hope this book titled "200 life changing Quotes" will benefit everyone who comes across in every part of this entire globe.
Dr. Rosie Patangia is an Assistant Professor and Head in the Department of English, Narangi Anchalik Mahavidyalaya, Guwahati, Assam, India. She has done her Ph.D from the Department of Folklore Research, Gauhati University. Her area of interest is literature and folklore. She is a bilingual poet and has co-authored a number of poetry Anthologies.
Her poems have been published in various newspapers and magazines and translated into Tamil, Telugu and Gujarati. She has published her first solo book titled " 200 LIFE CHANGING QUOTES".
She has a number of publications in books, research journals, peer-reviewed journals, edited volumes on literature and Folklore. She has presented papers in National and International Seminars and Conferences and has received best paper awards for her research papers on folklore.
She has also received a Certificate of Appreciation, Teacher Innovation Award from Sri Aurobindo Society (ZIIEI) in 2019 for Sustainable Efforts towards promoting joyful and Experiential teaching. She is the lifelong member of All India Association for Educational Research, Indian National Trust for Art and Cultural Heritage and Assam Sahitya Sabha. Besides, she loves travelling and painting.
Order it here:
Life through my eyes by Author Sumana Acherjee Mukherjee
Life Through My Eyes is Sumana's first book. A book that boosts your self confidence. It is a book for self motivation which is necessary to survive and fight against different odds of life.
Sumana Acherjee Mukherjee
Published two books Life Through My Eyes & The Moment of Joy
The book Life Through My Eyes was ranked in seven amazing books featured in Thedailybeat.in
Featured in Midget Herald under the column top 10 ambitious personalities who inspire the nation. Got featured in the United Business Journal. Featured on Fox Interviewer as the Latest literary star of West Bengal
Received the title 'Author of the year' by the Millennia Talent Award 2021.
Let's begin to know the story of small town girl Sumana, a dip in the pool of sweet chaos, tangled emotions and dripping confidence .
She says, "Well let me introduce myself…I am Sumana from Kolkata. A simple girl who established myself as a published author with my two books Life Through My Eyes and The Moment of Joy. She also worked as co-author under many good banners like Rosewood publication, TrueDremster publication, JEC publication etc. A born fighter who embraces the criticisms and turns them to my motivation. Being a tough woman, I never give up. My simple mantra in life is dream big, work hard and stay humble."
Order it here:
There are a plethora of books available in the market but we tried to recommend the best ones that you must definitely read irrespective of the genre you prefer. We expect a lot of good work from these three reputed and talented authors.
Advocate Author Dr. Manish Das of Supreme Court
Just like the theory of multiple intelligences, there should be a theory of multiple talents. If somebody would devise it then its first contender would be Dr Manish Das, the Director of Supercounsellors, who is the wealthiest personality with as many talents and professional qualities as possible. He is like a protagonist from a social reformist story who is always on a mission to transform society with his constant positive contribution and Author of the book – The Assam Municipal Corporation Act, 2022.
Dr Manish is a Freelance Professional Model, Actor, Dancer, Anchor, Theatre Artist, Performer, Author, Trainer, Social Worker, Artist, Counselor, Musician, Poet, Chess Player, Astro-Palmist, Columnist, and an Advocate at the Supreme Court of India, Different High Courts and Session Courts in India.
Dr Manish, the Director of Supercounsellors and his mother Mrs Rupali Baruah Das, the First lady career Counsellor from North East India run multiple foundations and educational institutes along with Supercounsellors including,
• www.careernewsz.com – for Career Counselling
• www.directadmissionandloan.com – for Career
counselling along with Educational loan assistance for
students with financially weaker backgrounds.
• www.indianoverseas.in – for abroad students
• www.kef360.com – for career counselling with an
online psychometric test.
• www.iipa.in.net – for our own online courses.
• www.supercounsellors.com – for online counselling to
educational-related people.
• www.aig.institute.org.in – for Graphology Institute
• www.iipalawtutorial.institute.org.in – for Law
Coaching.
• www.iiopa.institute.org.in – for International Institute
of Performing Arts.
• www.kef.institute.org.in – for Kulendra Das
Educational Foundation.
• www.indialawtimes.in – for Law News and Articles.
• www.northeastassam24.com – for North East Assam
News.
• www.manishdas.com – an informative site about
Advocate Manish Das.
• www.rupalibaruahdas.com – informative site about
Rupali Baruah Das.
• www.iipa.institute.org.in – for IIPA (NGO)
• www.bandhancity.com – for Northeast Assam's First
Matrimonial.
• www.bandhancity.in – for North East Assam First Matrimonial.
• www.dasandcolawfirm.com – for Any Law matter and
any registration, tax and services. Always choose one
of the North East Assam's oldest Law Firms since
1932.
• www.ice.institute.org.in – for Any Computer Software
and Hardware Courses from Govt. of India and Govt.
of Assam Awarded Intech Computer Education (ICE)
Since 2000.
• www.kefcareers.com – for Any kind of Scholarship and
Career-Related Courses.
• www.gonew.in – for A to Z in Traveling and Unique
Courses and Help in Getting New Courses.
• www.lexnext.in – For A to Z in all your Law-related
needs and solutions.
• www.kefcareer.in – For A to Z in Career Related
Courses.
In this mission of 22 years, Dr Manish has won several accolades and awards including
· The Real Super Heroes Award 2022 from FSIA
· Best Teacher Award Winner of 2021,
· Best NGO Award Winner of 2021,
· Best Educational Counsellor Awardee 2020,
· Best Edupreneur of the year 2020 and many more.
Dr Manish shares, "We have a mission: To educate the next generation which will fulfil our vision to make India a developed country by contributing to the field of
education."
Dr Manish spoke in an interview with insights success for its edition of 'India's 40 Under 40 Brightest Business Leaders.' Let us get educated and counselled from the following highlights of that inspirational discussion.
Sir, please tell us about the saga of your reputed business since its inception.
It was started long back in 2000 by me along with my mother Mrs Rupali Baruah Das. Since then, my role as an educator and counsellor has evolved over the years. And the experience was great because every time we get new listeners, a new environment, different schools and sometimes the same schools. Beyond this, we do a face-toface session with most of the students and try to know their problems and give the best solution by measuring their potential with the psychometric test, questionnaire and different activities where we try to take 360-degree views of the peer group etc.
Indianapolis based DJ and Entrepreneur Iman Tucker set to release first sneaker after the huge success of his apparel brand, Believe Brand Co.
It started off by designing premium faith based tees, hats, hoodies, jackets and various custom goods to wear on stage. As his desire for quality increased so did his vision for a brand.

Now it has transitioned into a luxury brand made to subtly stand out. Famous DJ and Entrepreneur Iman Tucker successfully built a faith based apparel brand named Believe Brand Co. The faith based apparel brand, Believe Brand Co. was brought up with the aim to establish itself as a Christian brand known for quality and a minimalistic style. However, as his desire to design luxury goods grew, he wanted to expand without plastering the traditional Believe Brand marks all over the high-end materials. This was the base for the setting up of Capre – a luxury brand he looks to use his momentum in entrepreneurship to scale.

That is when the vision of his own shoe came to light.
Indianapolis DJ and Entrepreneur, Iman Tucker found new interest in remixing a classic silhouette into a new look for his latest venture. He said, "Releasing a shoe that speaks of what we as a community believe in has always been a dream for us. The vision is to create a clean and simple, yet bold look to a luxury sneaker all stemmed from inspiration."
The idea came up as they discussed making goods from head to toe. "Well what about shoes?" As soon as it was suggested the team bought in and the work started. The team was tasked first with identifying a name for the brand. After toying around with ideas they resorted to a familiar playbook using Tucker's name. Believe Brand's name came from the Farsi to English translation Iman meaning "faith in God" or "Believe." However, this time it wasn't as direct. Born Iman Capre O'Neal Tucker, they looked to his second name "Capre" in lieu of the second brand. Aromanian translation leads to meaning goat.

Of course that was not the final destination.
Popular among American culture is the acronym G.O.A.T. or greatest of all time. In the Christian religion the son of God is referred to as the greatest man to walk the earth.
The team wanted the brand to be a testament to excellence, a luxury brand committed to a unique look and design of mark and materials unmatched to any other brands available in the market.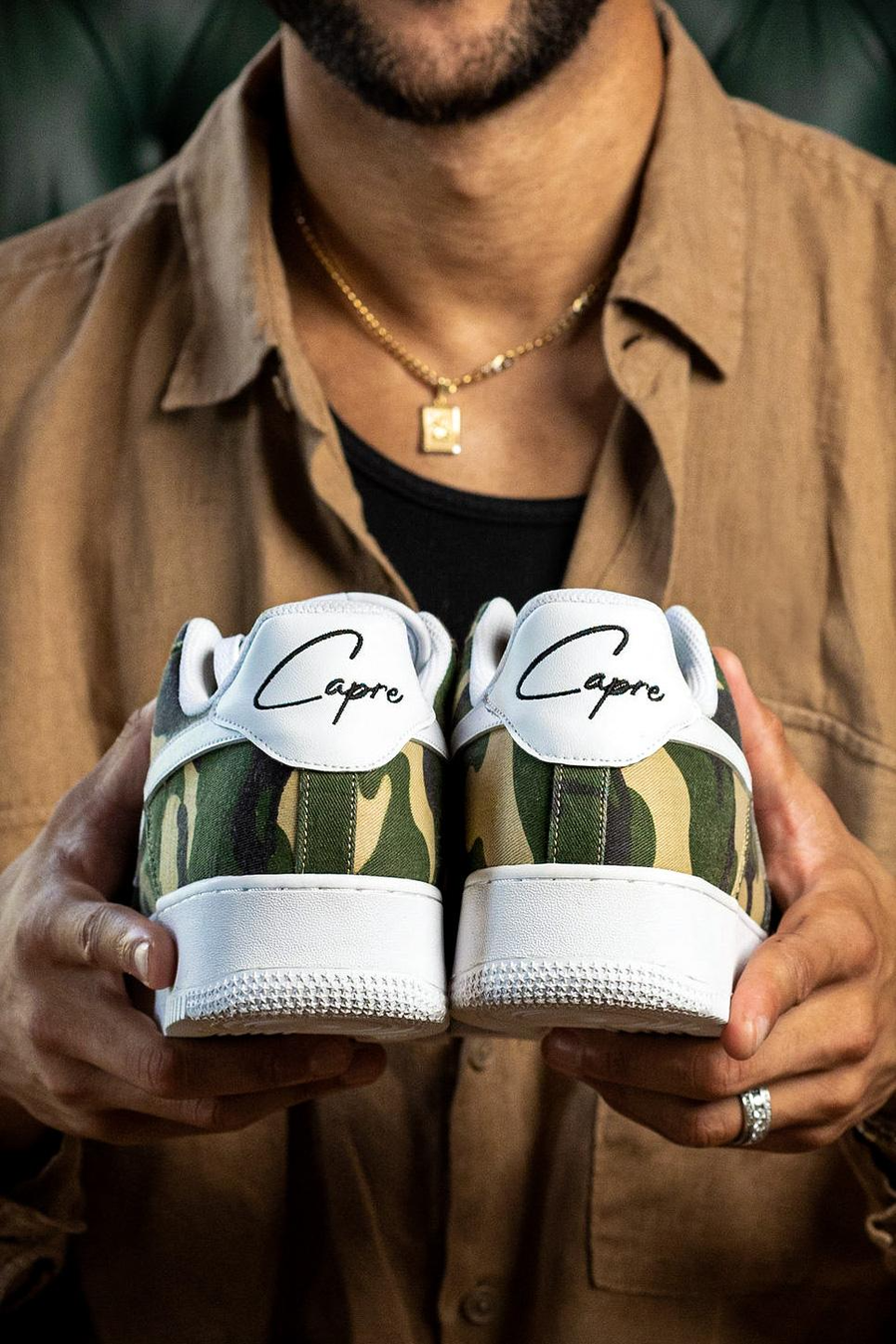 As for the logo, the team wanted to give the main side logo of the shoe something that resonated to something outside of the religion. They discussed "If the son of god is god…who is god? God is love!…we wanted to come up with something related to love." After the logo was finalized, an asymmetrical heart took the forefront of the design made up of two major parts. This was a very big deal for the team, to speak about the comparison. "We often compare our self worth on many factors and we feel smaller than those we look up to. However, it takes everyone to make the full picture, it takes all efforts to bring together the big and small," and that's how the team came up with the iconic heart logo on the side of the shoe.
Iman Tucker plans to release the shoe before the official release of the brand, Capre, which will be an online-only retail brand. The shoe will be available for pre-order from November 2022 while the company aims to release the luxury brand Capre by Q1 of 2023.
CYBER EXPERT MIEET SHAH SOLVES MORE THEN 1500 CYBER CRIME CASES.
In the era of digitalisation there are tons of people of being victimised where Cyber Expert Mieet Shah is helping them with unique solutions towards such crimes. Mieet Shah completed his doctorate in Cybersecurity at his young age and using his expertise in solving various types of cybercrimes and tracking cyber criminals and making justice to the victims of such crime which makes Dr.Shah is one of the leading Cybersecurity Experts in India.
Recently Dr.Shah has created a record by solving more then 1500 cybercrimes successfully. He was recently awarded with "International Fame Award" by bollywood actor Sonu Sood for his remarkable work. Also he had been published in more then 250 national and international media.
We are greatful to have such young and dynamic personality in our country.