PACKING PANDA – AN ACKNOWLEDGED FLAGSHIP DIVISION OF FOOD PACKAGING SERVICES
MANOJ SREENIVAS,
CEO
An innovative entrepreneur Manoj Sreenivas apart from being the Founder and CEO of Packing Panda is also the Co-Founder of Qwicly which is aHyper-Local delivery App. His areas of interest lie across Product Management, Product Marketing, E-commerce, Cross-functional Team Leadership, Business Development, Competitive Analysis and many more. Under his able guidance Packing Panda is gradually emerging as a leading supplier of food packaging for restaurants and food services.
The Packing is the fifth largest sector in India's economy and is one of the highest growth sectors in the country. Expected to grow at 18 per cent annually, with flexible packaging growing at 25 percent and rigid packaging at 15 percent, the Indian packaging industry is thriving exponentially. Plunging into this billion-dollar market to investigate the future of the packaging industry in India, packing panda is considered a flagship division of packaging Services. With innovation as the principal service culture, Packing Panda ensures end-to-end services to the clients focusing on long term relationships and value-added services. With a passion for achieving Strategic Goals, Packing Panda is focused on providing simple benefits-driven solutions.
Catering to the needs of all FMCG packaging requirements of clients, packing panda allows the customers to focus on the other significant areas of the business. Emerging as the new identity of the Indian packaging industry engages in an exclusive interaction with the team of CEO insights.
Tell us about the inception ideology of packing panda.
To be very precise, the packaging industry is an advantageous industry benefitting almost every company starting from pharmaceutical to restaurant, logistics, e-commerce and many more. Conceived in the year of 2016, packing panda was initially started off with the packaging across FMGC, QSR and cloud kitchens. That was the very first time when Zomato and Swiggy were getting complicated on each other in the market which made food packaging very mandate in the market for online deliveries So we started serving our customers as per their requirements ranging from cutleries to food packaging as a one stop solution provider.
Throw some lights on packaging services and solutions offered at packing panda. Also, highlight the major packaging aspects of your company.
Basically, we provide one-stop solution for packaging ,cutleries, meal trays and containers. We do customization of products as per the requirement of our customers. We believe in providing the A to Z packaging solution for any restaurant or hotel industry which is quite a major thing. As the manufacturers available in the market always manufacture one single product, rather than multiple products, the clients have to get tissues from one vendor, cutleries from a different vender and food packaging containers from another vendor. There are multiple options that they need to go through and it consumes a lot of time. The restaurant owner or purchase team wants to have a single vendor where it could be feasible for them to purchase the various food packaging products. Hence, we make sure any restaurant or anyone who wants to procure the packaging materials can contact us and we will supply the materials. To tackle the shortage of packaging material in COVID times, we supplied meal trays and containers to many Could Kitchens and Restaurants for supplying food for the Quarantine Centres.
If possible, please share one case study with us which depicts the efficiency of our services.
Our client barbecue nation is a very big name in the industry today with approximately 146 branches all over India. Before we entered the scene, they were facing huge troubles for procuring the packaging products locally. Without a centralized system, procuring the materials in time becomes very much difficult. So, we came up with a unique solution for them in which we would be delivering one-time, one-party contact solutions for all of their packaging needs, including our customized products to their doorstep our across all the 146 locations.
Brief us about your manufacturing facility and the infrastructure that has enabled you to deliver such big orders effectively.
We are not in Manufacturing but mostly in the packaging business, where we buy products from our manufacturers and supply to our customers. Whatever I purchase from manufacturers, they are always available at a better price than the market rate for my customers. Whether they buy from any local dealer or from packing panda, I can certainly assure that the prices will always be competitive. We have multiple manufacturer's on-boarded into our platform from various places across the country such as Bangalore, Gujarat, Delhi, Hyderabad, Mumbai, Gorakhpur and Faridabad.
Tell us how you constantly refine your solutions to align with customer expectations. Are you working on any new solutions that might be launched in the foreseeable future?
We make sure to satisfy our customers as they always come back enquiring about specific products which are sometimes not available in the market due to some logistical issues. Anything which arrives in the market, we will be definitely sharing its information with our customers. Whenever our manufacturers inform us about the launch or introduction of a new product in the packaging market, we always broadcast emails to all our customers stating the availability of the new product. With innovations happening regularly in this domain, the packaging solutions also may change in terms of boxes, packets, or cutleries. We tell the customers that we have a type of box affiliated in the market. If you are interested to procure them, then these are the pricing and the quantity, which you need to pick up. The major thing is that we need to make sure that everyone in this industry should know that there's packaging panda in terms of effective packaging.
What is the future roadmap that you have envisioned for Packing Panda?
We want to create a tech-enabled system where our customers can procure any packaging on our website. Also, in case of a new requirement, they can just post it on our website and we will come back to them as soon as we procure their requested items. In today's market, you cannot procure packaging products from one single platform, as you don't have everything together in one website. So, within the next one year, we are planning to create an environment, where you can buy all the packaging material from a single contact.
Avinasah M N (CFO & CO- Founder)
Lokesh Ravish Kumar (CFO & Co-Founder)
FOR ANY FURTHER DETAILS DO VISIT OUR WEBSITE, www.packingpanda.in
Advocate Author Dr. Manish Das of Supreme Court
Just like the theory of multiple intelligences, there should be a theory of multiple talents. If somebody would devise it then its first contender would be Dr Manish Das, the Director of Supercounsellors, who is the wealthiest personality with as many talents and professional qualities as possible. He is like a protagonist from a social reformist story who is always on a mission to transform society with his constant positive contribution and Author of the book – The Assam Municipal Corporation Act, 2022.
Dr Manish is a Freelance Professional Model, Actor, Dancer, Anchor, Theatre Artist, Performer, Author, Trainer, Social Worker, Artist, Counselor, Musician, Poet, Chess Player, Astro-Palmist, Columnist, and an Advocate at the Supreme Court of India, Different High Courts and Session Courts in India.
Dr Manish, the Director of Supercounsellors and his mother Mrs Rupali Baruah Das, the First lady career Counsellor from North East India run multiple foundations and educational institutes along with Supercounsellors including,
• www.careernewsz.com – for Career Counselling
• www.directadmissionandloan.com – for Career
counselling along with Educational loan assistance for
students with financially weaker backgrounds.
• www.indianoverseas.in – for abroad students
• www.kef360.com – for career counselling with an
online psychometric test.
• www.iipa.in.net – for our own online courses.
• www.supercounsellors.com – for online counselling to
educational-related people.
• www.aig.institute.org.in – for Graphology Institute
• www.iipalawtutorial.institute.org.in – for Law
Coaching.
• www.iiopa.institute.org.in – for International Institute
of Performing Arts.
• www.kef.institute.org.in – for Kulendra Das
Educational Foundation.
• www.indialawtimes.in – for Law News and Articles.
• www.northeastassam24.com – for North East Assam
News.
• www.manishdas.com – an informative site about
Advocate Manish Das.
• www.rupalibaruahdas.com – informative site about
Rupali Baruah Das.
• www.iipa.institute.org.in – for IIPA (NGO)
• www.bandhancity.com – for Northeast Assam's First
Matrimonial.
• www.bandhancity.in – for North East Assam First Matrimonial.
• www.dasandcolawfirm.com – for Any Law matter and
any registration, tax and services. Always choose one
of the North East Assam's oldest Law Firms since
1932.
• www.ice.institute.org.in – for Any Computer Software
and Hardware Courses from Govt. of India and Govt.
of Assam Awarded Intech Computer Education (ICE)
Since 2000.
• www.kefcareers.com – for Any kind of Scholarship and
Career-Related Courses.
• www.gonew.in – for A to Z in Traveling and Unique
Courses and Help in Getting New Courses.
• www.lexnext.in – For A to Z in all your Law-related
needs and solutions.
• www.kefcareer.in – For A to Z in Career Related
Courses.
In this mission of 22 years, Dr Manish has won several accolades and awards including
· The Real Super Heroes Award 2022 from FSIA
· Best Teacher Award Winner of 2021,
· Best NGO Award Winner of 2021,
· Best Educational Counsellor Awardee 2020,
· Best Edupreneur of the year 2020 and many more.
Dr Manish shares, "We have a mission: To educate the next generation which will fulfil our vision to make India a developed country by contributing to the field of
education."
Dr Manish spoke in an interview with insights success for its edition of 'India's 40 Under 40 Brightest Business Leaders.' Let us get educated and counselled from the following highlights of that inspirational discussion.
Sir, please tell us about the saga of your reputed business since its inception.
It was started long back in 2000 by me along with my mother Mrs Rupali Baruah Das. Since then, my role as an educator and counsellor has evolved over the years. And the experience was great because every time we get new listeners, a new environment, different schools and sometimes the same schools. Beyond this, we do a face-toface session with most of the students and try to know their problems and give the best solution by measuring their potential with the psychometric test, questionnaire and different activities where we try to take 360-degree views of the peer group etc.
Indianapolis based DJ and Entrepreneur Iman Tucker set to release first sneaker after the huge success of his apparel brand, Believe Brand Co.
It started off by designing premium faith based tees, hats, hoodies, jackets and various custom goods to wear on stage. As his desire for quality increased so did his vision for a brand.

Now it has transitioned into a luxury brand made to subtly stand out. Famous DJ and Entrepreneur Iman Tucker successfully built a faith based apparel brand named Believe Brand Co. The faith based apparel brand, Believe Brand Co. was brought up with the aim to establish itself as a Christian brand known for quality and a minimalistic style. However, as his desire to design luxury goods grew, he wanted to expand without plastering the traditional Believe Brand marks all over the high-end materials. This was the base for the setting up of Capre – a luxury brand he looks to use his momentum in entrepreneurship to scale.

That is when the vision of his own shoe came to light.
Indianapolis DJ and Entrepreneur, Iman Tucker found new interest in remixing a classic silhouette into a new look for his latest venture. He said, "Releasing a shoe that speaks of what we as a community believe in has always been a dream for us. The vision is to create a clean and simple, yet bold look to a luxury sneaker all stemmed from inspiration."
The idea came up as they discussed making goods from head to toe. "Well what about shoes?" As soon as it was suggested the team bought in and the work started. The team was tasked first with identifying a name for the brand. After toying around with ideas they resorted to a familiar playbook using Tucker's name. Believe Brand's name came from the Farsi to English translation Iman meaning "faith in God" or "Believe." However, this time it wasn't as direct. Born Iman Capre O'Neal Tucker, they looked to his second name "Capre" in lieu of the second brand. Aromanian translation leads to meaning goat.

Of course that was not the final destination.
Popular among American culture is the acronym G.O.A.T. or greatest of all time. In the Christian religion the son of God is referred to as the greatest man to walk the earth.
The team wanted the brand to be a testament to excellence, a luxury brand committed to a unique look and design of mark and materials unmatched to any other brands available in the market.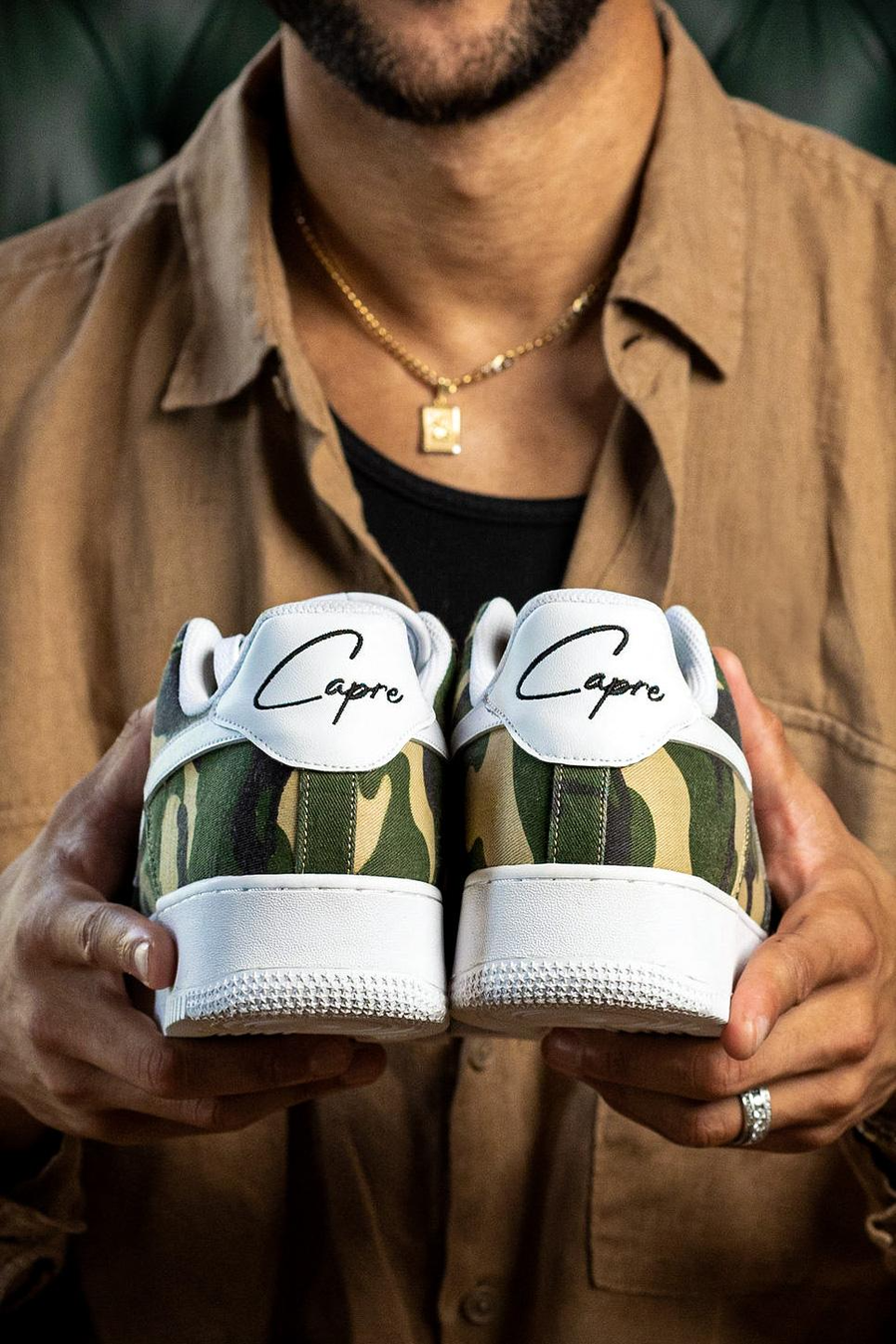 As for the logo, the team wanted to give the main side logo of the shoe something that resonated to something outside of the religion. They discussed "If the son of god is god…who is god? God is love!…we wanted to come up with something related to love." After the logo was finalized, an asymmetrical heart took the forefront of the design made up of two major parts. This was a very big deal for the team, to speak about the comparison. "We often compare our self worth on many factors and we feel smaller than those we look up to. However, it takes everyone to make the full picture, it takes all efforts to bring together the big and small," and that's how the team came up with the iconic heart logo on the side of the shoe.
Iman Tucker plans to release the shoe before the official release of the brand, Capre, which will be an online-only retail brand. The shoe will be available for pre-order from November 2022 while the company aims to release the luxury brand Capre by Q1 of 2023.
CYBER EXPERT MIEET SHAH SOLVES MORE THEN 1500 CYBER CRIME CASES.
In the era of digitalisation there are tons of people of being victimised where Cyber Expert Mieet Shah is helping them with unique solutions towards such crimes. Mieet Shah completed his doctorate in Cybersecurity at his young age and using his expertise in solving various types of cybercrimes and tracking cyber criminals and making justice to the victims of such crime which makes Dr.Shah is one of the leading Cybersecurity Experts in India.
Recently Dr.Shah has created a record by solving more then 1500 cybercrimes successfully. He was recently awarded with "International Fame Award" by bollywood actor Sonu Sood for his remarkable work. Also he had been published in more then 250 national and international media.
We are greatful to have such young and dynamic personality in our country.