New Multi-Speciality Hospital making care easy in fast-developing New Gurgaon
Newly opened SilverStreak Multi-Speciality Hospital in Sector-87, Gurgaon with "PATIENT FIRST APPROACH" and an aim to make Affordable Health Services Available for the Common Man, is making healthcare easy for residents of densely packed & fast developing New Gurgaon area. The hospital is equipped with State of Art Infrastructure and best-class Medical Consultants and Paramedical Staff. It has a capacity of 250 Indoor Beds with the best Equipment, 24 Chamber OPD Area operated by Experienced Consultants, well-equipped Laboratories, a Diagnostic Center for Precision Diagnosis, and a well-stocked in-house Pharmacy, which helps in diagnosing the correct disease and providing the suitable treatment to the patient.
Silver Streak Hospital operates and manages all the facilities to provide the affordable and best treatment to the patient travelling from any part of India and the globe, believing in giving the best treatment with the utmost care, best quality, and compassion.
From starting as a vision of one man's dream to the reality of revolutionising the health care industry, they are proud to be one of the flag bearers of this paradigm shift to – clinical excellence, patient-centricity, and ethical practices.
Residents of the New Gurgaon area are extremely elated with the opening of a Multi-Speciality hospital nearby with at par service standards of the main Gurgaon area. A few residents quoted that they feel safe for their family members as World-Class daily care & emergency care is available nearby.
SilverStreak Multispeciality Hospital's Mission is to Bring Healthcare of International Standard Within the Reach of Every Individual. We Are Committed to the Achievement of Excellence in Medical Education & Awareness for the benefit of Humanity.
The founder & dreamer of this project, Dr V.K. Gupta, established V.K. Neurocare & Trauma Research Hospital in Jan 1997. It is the first hospital in Haryana to have Endoscopic Brain & Spine surgery facilities, by Dr V.K. Gupta, an expert neurosurgeon trained at P.G.I., Chandigarh. By starting the V.K. Neurocare & Trauma Research Hospital, a gap of non-availability of a neurosurgeon in the town- Hisar has been filled. Dr Gupta aims to commit the same dedication in providing a similar revolution in the Delhi NCR region.
SilverStreak Multispeciality Hospital offers consultations, surgery, daycare services & 24 hours Emergency Response. Highly experienced doctors in specialities like Medicine, Surgery, Gynaecology and Obstetrics, Pediatrics & Neonatology, Orthopaedics, Physiotherapy, Dermatology, Radiology, Pathology, Pulmonology, Dental Surgery & Neurology are part of the team.
Individual care to deliver the best results – that is what the hospital focuses on at every step. With 360-degree care, patients experience the concept of Total Quality Management. The consultants and Nursing staff are not only just experts in their speciality, but they are also driven by the vision of quality and commitment in giving individual attention to their patients.
The organization is soon planning to start a cerebral palsy center for the benefit of patients in need. The organization is already running a Welfare Society for Neurological Patients and organizing free camps every month last Sunday since 1998.
V. K. Neurocare & SilverStreak Multispeciality Hospital has an association with many renowned organizations for the upliftment of society. Association with the "Welfare Society for the Neurological Patient" has provided free consultation, diagnosis, and concessional medical aid to patients, since 1997, under the able guidance of Lion H.R. Narang & Lion Dr V. K. Gupta. The hospital's founder, Dr V.K. Gupta, has also got the "Man of Achievement Award" in 1999 and Rashtriya Saman Puraskar by Shri Suresh Prabhu, Hon'ble Ex Union Minister for Power, on 13th July 2001. He is an expert Neurosurgeon from P.G.I., Chandigarh, has visited many places in and out India to participate in medical conference life Australia, U.K., Jaipur, Chandigarh, Allahabad, Bangalore, Madras, etc


Currently, the hospital is running various inaugural offers like:
Free Registration.
50% OFF on OPD Consultation.
25% OFF on Cash Surgical Packages.
20% OFF on investigations.
10% OFF on Lab & Pharmacy.
Family physician consultation at Rs100 only.
To Book an appointment, call at +91-9910520522, +91-124-432-4444
Website: https://silverstreakhospital.com/
Location: Opp. DLF Skycourt, Sector 87, Gurugram -122505, Haryana, India
Facebook: @silverstreakmultispecialityhospital
Advocate Author Dr. Manish Das of Supreme Court
Just like the theory of multiple intelligences, there should be a theory of multiple talents. If somebody would devise it then its first contender would be Dr Manish Das, the Director of Supercounsellors, who is the wealthiest personality with as many talents and professional qualities as possible. He is like a protagonist from a social reformist story who is always on a mission to transform society with his constant positive contribution and Author of the book – The Assam Municipal Corporation Act, 2022.
Dr Manish is a Freelance Professional Model, Actor, Dancer, Anchor, Theatre Artist, Performer, Author, Trainer, Social Worker, Artist, Counselor, Musician, Poet, Chess Player, Astro-Palmist, Columnist, and an Advocate at the Supreme Court of India, Different High Courts and Session Courts in India.
Dr Manish, the Director of Supercounsellors and his mother Mrs Rupali Baruah Das, the First lady career Counsellor from North East India run multiple foundations and educational institutes along with Supercounsellors including,
• www.careernewsz.com – for Career Counselling
• www.directadmissionandloan.com – for Career
counselling along with Educational loan assistance for
students with financially weaker backgrounds.
• www.indianoverseas.in – for abroad students
• www.kef360.com – for career counselling with an
online psychometric test.
• www.iipa.in.net – for our own online courses.
• www.supercounsellors.com – for online counselling to
educational-related people.
• www.aig.institute.org.in – for Graphology Institute
• www.iipalawtutorial.institute.org.in – for Law
Coaching.
• www.iiopa.institute.org.in – for International Institute
of Performing Arts.
• www.kef.institute.org.in – for Kulendra Das
Educational Foundation.
• www.indialawtimes.in – for Law News and Articles.
• www.northeastassam24.com – for North East Assam
News.
• www.manishdas.com – an informative site about
Advocate Manish Das.
• www.rupalibaruahdas.com – informative site about
Rupali Baruah Das.
• www.iipa.institute.org.in – for IIPA (NGO)
• www.bandhancity.com – for Northeast Assam's First
Matrimonial.
• www.bandhancity.in – for North East Assam First Matrimonial.
• www.dasandcolawfirm.com – for Any Law matter and
any registration, tax and services. Always choose one
of the North East Assam's oldest Law Firms since
1932.
• www.ice.institute.org.in – for Any Computer Software
and Hardware Courses from Govt. of India and Govt.
of Assam Awarded Intech Computer Education (ICE)
Since 2000.
• www.kefcareers.com – for Any kind of Scholarship and
Career-Related Courses.
• www.gonew.in – for A to Z in Traveling and Unique
Courses and Help in Getting New Courses.
• www.lexnext.in – For A to Z in all your Law-related
needs and solutions.
• www.kefcareer.in – For A to Z in Career Related
Courses.
In this mission of 22 years, Dr Manish has won several accolades and awards including
· The Real Super Heroes Award 2022 from FSIA
· Best Teacher Award Winner of 2021,
· Best NGO Award Winner of 2021,
· Best Educational Counsellor Awardee 2020,
· Best Edupreneur of the year 2020 and many more.
Dr Manish shares, "We have a mission: To educate the next generation which will fulfil our vision to make India a developed country by contributing to the field of
education."
Dr Manish spoke in an interview with insights success for its edition of 'India's 40 Under 40 Brightest Business Leaders.' Let us get educated and counselled from the following highlights of that inspirational discussion.
Sir, please tell us about the saga of your reputed business since its inception.
It was started long back in 2000 by me along with my mother Mrs Rupali Baruah Das. Since then, my role as an educator and counsellor has evolved over the years. And the experience was great because every time we get new listeners, a new environment, different schools and sometimes the same schools. Beyond this, we do a face-toface session with most of the students and try to know their problems and give the best solution by measuring their potential with the psychometric test, questionnaire and different activities where we try to take 360-degree views of the peer group etc.
Indianapolis based DJ and Entrepreneur Iman Tucker set to release first sneaker after the huge success of his apparel brand, Believe Brand Co.
It started off by designing premium faith based tees, hats, hoodies, jackets and various custom goods to wear on stage. As his desire for quality increased so did his vision for a brand.

Now it has transitioned into a luxury brand made to subtly stand out. Famous DJ and Entrepreneur Iman Tucker successfully built a faith based apparel brand named Believe Brand Co. The faith based apparel brand, Believe Brand Co. was brought up with the aim to establish itself as a Christian brand known for quality and a minimalistic style. However, as his desire to design luxury goods grew, he wanted to expand without plastering the traditional Believe Brand marks all over the high-end materials. This was the base for the setting up of Capre – a luxury brand he looks to use his momentum in entrepreneurship to scale.

That is when the vision of his own shoe came to light.
Indianapolis DJ and Entrepreneur, Iman Tucker found new interest in remixing a classic silhouette into a new look for his latest venture. He said, "Releasing a shoe that speaks of what we as a community believe in has always been a dream for us. The vision is to create a clean and simple, yet bold look to a luxury sneaker all stemmed from inspiration."
The idea came up as they discussed making goods from head to toe. "Well what about shoes?" As soon as it was suggested the team bought in and the work started. The team was tasked first with identifying a name for the brand. After toying around with ideas they resorted to a familiar playbook using Tucker's name. Believe Brand's name came from the Farsi to English translation Iman meaning "faith in God" or "Believe." However, this time it wasn't as direct. Born Iman Capre O'Neal Tucker, they looked to his second name "Capre" in lieu of the second brand. Aromanian translation leads to meaning goat.

Of course that was not the final destination.
Popular among American culture is the acronym G.O.A.T. or greatest of all time. In the Christian religion the son of God is referred to as the greatest man to walk the earth.
The team wanted the brand to be a testament to excellence, a luxury brand committed to a unique look and design of mark and materials unmatched to any other brands available in the market.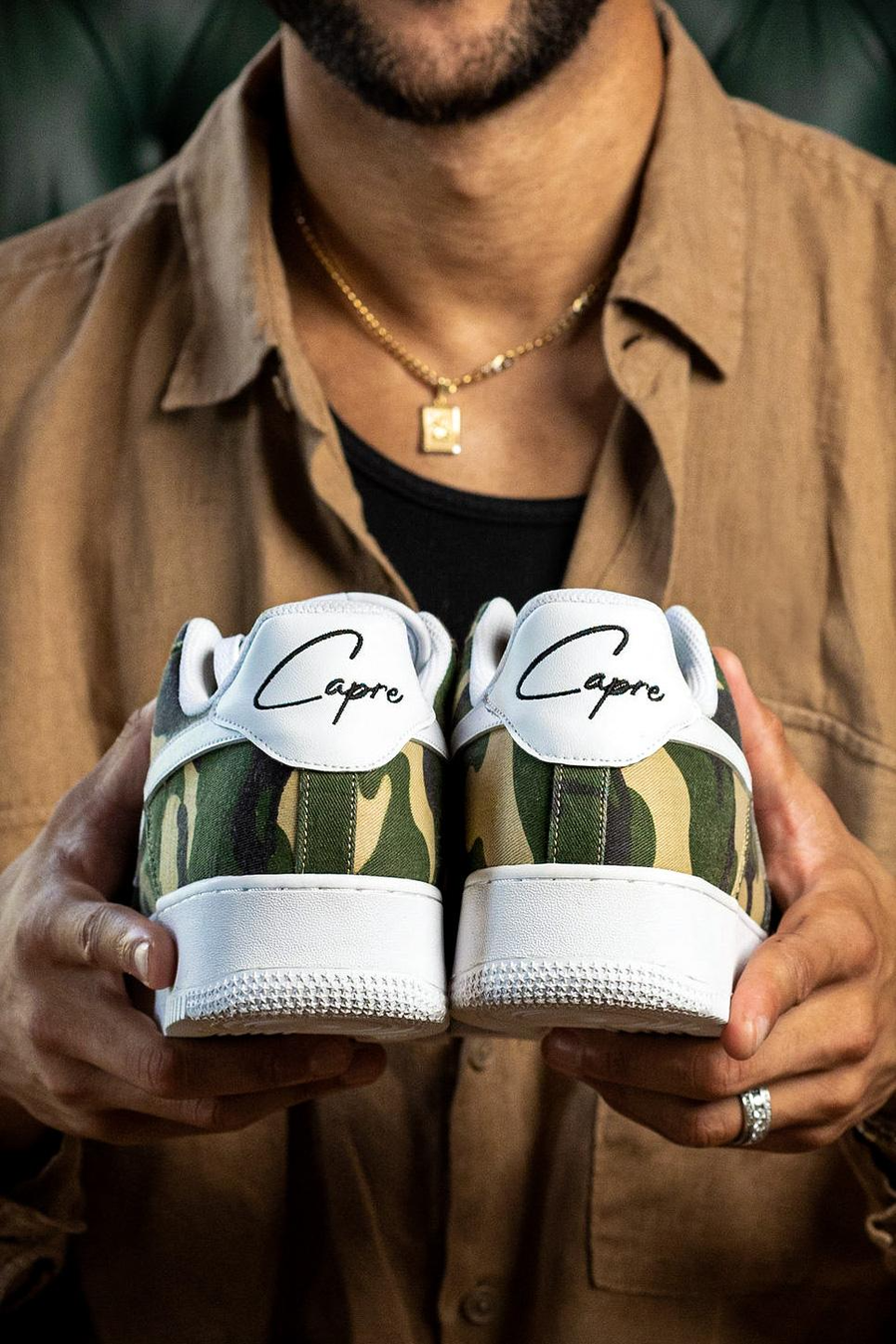 As for the logo, the team wanted to give the main side logo of the shoe something that resonated to something outside of the religion. They discussed "If the son of god is god…who is god? God is love!…we wanted to come up with something related to love." After the logo was finalized, an asymmetrical heart took the forefront of the design made up of two major parts. This was a very big deal for the team, to speak about the comparison. "We often compare our self worth on many factors and we feel smaller than those we look up to. However, it takes everyone to make the full picture, it takes all efforts to bring together the big and small," and that's how the team came up with the iconic heart logo on the side of the shoe.
Iman Tucker plans to release the shoe before the official release of the brand, Capre, which will be an online-only retail brand. The shoe will be available for pre-order from November 2022 while the company aims to release the luxury brand Capre by Q1 of 2023.
CYBER EXPERT MIEET SHAH SOLVES MORE THEN 1500 CYBER CRIME CASES.
In the era of digitalisation there are tons of people of being victimised where Cyber Expert Mieet Shah is helping them with unique solutions towards such crimes. Mieet Shah completed his doctorate in Cybersecurity at his young age and using his expertise in solving various types of cybercrimes and tracking cyber criminals and making justice to the victims of such crime which makes Dr.Shah is one of the leading Cybersecurity Experts in India.
Recently Dr.Shah has created a record by solving more then 1500 cybercrimes successfully. He was recently awarded with "International Fame Award" by bollywood actor Sonu Sood for his remarkable work. Also he had been published in more then 250 national and international media.
We are greatful to have such young and dynamic personality in our country.