Flairs and Glairs (F&G) is a renowned publication known for providing various range of services under one roof.
Flairs and Glairs (F&G) is a renowned publication known for providing various range of services under one roof. F&G is not only registered under MSME Act, but also ISO Certified and Trademark Registered. Along with publishing , F&G has 3 sub brands named – "Teekhe Zasbaaat" , "Ink Over Tears" and "The Glittering Fables" which deals with creative and content writing , public speaking activities.
Founded by Shubham Shah on December 23, 2019, F&G was started with a vision to bring opportunities to the doorstep of all. Joined by Ishani Agarwal as co-founder, F&G reached great heights in the field of art, writing, speaking and creativity.
The most prized possession of F&G is their "published books". Their USP are their packages offered for publishing Anthologies and Solo Books. Compilers, authors and even budding writers can select their choice of packages between high and low range. Along with it, several benefits such as books, certificates and goodies such as trophies, medals, key chains, customized pens and many more are provided to the co-authors. Compilers are awarded with monetary benefits, for the hardwork they do. Guidance is provided at every step by highly trained project heads who also inculcates management skills amongst compilers. Series of anthologies were launched by F&G in mega launch events. In whole, more than 350+ compilations on distinct themes such as – love, friendship, family, cultures, festivals, sacrifice, patriotism, women empowerment, social issues etc have been published so far. These books are compiled by 300+ compilers under the expert guidance and services of F&G. There are also various prestigious book records which are bagged by F&G for more than 15+ anthologies. For record books, F&G develops tailor-made packages as per the requirements of compilers and norms of record agencies. The books are released on distinguished platforms such as Amazon, Amazon kindle, F&G official website.
Following the trend of self publishing, F&G has paved way for writers to become authors and published writers by publishing their solo books. There are 10+ solo books launched by F&G till date and many more are in the pipeline. Writers can opt for a particular package of their choice. Proper guidance and assistance is provided in the process of manuscripting, formatting and editing. Gamut of procedures beginning from ISBN allocation to selection of book cover, distribution of book, promotions, and sales is followed by F&G's professional team for effective and absolute release of book.
Moving on to Sub – brands of F&G , daily writing challenges on variety of themes and genres are conducted online by F&G's writing communities – "Teekhe Zasbaaat" and "The Glittering Fables" . Winners are awarded with certificates as well. The 3rd community – "Ink Over Tears" exhibits a very unique concept of writing collaboration, wherein a writer has to collaborate their content with the given challenge write-up. Ink-slingers are inspired to adopt writing as a daily habit and improve their scribbling skills for good.
We also provide platform to give voice to the words via our Audio-Video groups and virtual open mic contests. F&G, in its very first year organized 9+ Free Grand virtual open mics, a concept that was so unique and one of its kind that speakers from various corners registered themselves for the same. Speakers were given a platform wherein they were heard, appreciated and even encouraged to improve themselves. The most exciting aspect is the "YouTube feature of speakers on official channel of F&G".
We also feature podcast in content and interview mode on recognized platforms such as Spotify, Jio Saavan, Gaana and Google Podcasts. This is open to all artists, writers, spoken word poets and singers.
F&G has organized numerous other events in order to showcase and bring to the world all kinds of creativity and talents. A few events along with their depiction are as follows:-
– "Kuch chatted Meethe bol"
(virtual open mic)
– "Rakhi : an emotional thread"
(Cooking contest)
– "Saavan- Ahsaason k sang"
(virtual open mic)
– "Be the boss"
(Selfie contest)
– "Colour the Syllabary"
(Capture, Canvas, Create contest)
-Quiz
(Related to movies, series)
………and many more…..These events were completely free of cost as our only motive was to let people participate, recognize their potential and enjoy in return. We also aim to fulfill Social responsibility by publishing books and conducting events that are great source of knowledge and awareness amongst masses, especially in regards to development of society and throwing light on prevailing alarming issues.
Awarding the deserved also became our paramount consideration and as a result we also started giving "Awards" in different categories such as – "Father's day award", "Mother's day award", "Achiever of the year". We got a sprawling number of nominees and in return, we awarded the deserved with our prestigious award kit, filled with love and goodies!
Our "workshop week" is another feather to the cap! We taught 7 skills in 7 days to our attendees. Skill set consists – Abacus, Poetry and figure of speech, story writing, debate and personality development, basics of chess, origami, and public speaking. Even on our Instagram handle (@flairsandglairs), we keep sharing new vocabulary and idioms for our readers to read and learn. Additionally, many reels and IGTV videos are made to share information such as art of compiling, session's on records in an artistic manner. Furthermore, scribblers regularly send their selective short and crisp contents which are featured on our Instagram (@cafe_flaisandglairs)
Now, F&G has expanded to the field of merchandise. To inspire writers even more, we are selling beautiful diaries with imaginative designs(customisable as per the buyer's requirements), both paperback and hardbound for affordable prices and worthy quality.
We love giving surprises! We often do giveaways and provide discounts on our anthology and solo book packages. One just needs to stay tuned with us.
Celebrating diversity of nation, various cultures and religion is what we strive for. On every occasion or festival, we share poster of same with our writers, participants and other community members and wish them the joyous day. It creates a true bond and binds us together.
F&G , with all its activities has created a strong network of almost 10,000+ writers, readers, authors, co-authors, compilers , artists and other creative personas, which gives exposure and a grand platform to the one who joins us, our initiatives and to our audience at large.
All the aforementioned, is the fruit of seeds sowed by F&G core team. A Team of 11 who came together from different backgrounds, with different ideas and skills are – Name (designation)
Shubham Shah (Founder)
Ishani Agarwal (Co Founder)
Shobhit Kumar (Management Head)
Shivangi Jaiswal (Executive Head)
Surbhi Gupta (Senior Project Head)
Muskan Shah (Senior Project Head)
Monalisa Nayak (Social Media Head)
Firdous Anjum Nasir Sheikh (Event Head)
Adrija Paul (Event Manager)
Ishrat Jahan Noormohammed Khan (Project Head)
Shivansh Sharma (Social Media head IOT)
The hierarchy is strictly followed and all departments work in a dignified manner towards achieving quality in books, events and other aspects. We follow rules of transparency and keep our customers informed about our working methods and upcoming events. Even in case of any issues or confusion, team members are always at disposal if anyone wishes to seek remedies and solutions.
In this modern era, F&G holds a strong social media presence. We have our official accounts on almost all social media platforms along with a website (mentioned below). One can see our upcoming anthologies, event posters, featured writers and co-authors, award winners, core members on these accounts. As a matter of fact, posting love of co-authors and other related people by way of their pictures and videos with books, awards and their feedbacks on our accounts is akin to gold medals and trophies for F&G.
Flairs and Glairs is about to complete two glorious years in December 2021. The same will be celebrated amidst our entire community with many jovial surprises and fresh concepts. We take pride in stating that we exist to infuse novelty, provide excellent services and astounding opportunities for one and all.
In order to check our work and to contact us, kindly adhere to our following accounts:
INSTAGRAM ACCOUNTS
@flairsandglairs
@books_flairsandglairs
@cafe_flairsandglairs
@teekhezasbaaat
@theglitteringfables
@inkovertears
GMAIL ID (s)
WEBSITES
www.flairsandglairs.com
www.flairsandglairs.in
FACEBOOK
Flairs and Glairs
YOUTUBE
Flairs and Glairs
Advocate Author Dr. Manish Das of Supreme Court
Just like the theory of multiple intelligences, there should be a theory of multiple talents. If somebody would devise it then its first contender would be Dr Manish Das, the Director of Supercounsellors, who is the wealthiest personality with as many talents and professional qualities as possible. He is like a protagonist from a social reformist story who is always on a mission to transform society with his constant positive contribution and Author of the book – The Assam Municipal Corporation Act, 2022.
Dr Manish is a Freelance Professional Model, Actor, Dancer, Anchor, Theatre Artist, Performer, Author, Trainer, Social Worker, Artist, Counselor, Musician, Poet, Chess Player, Astro-Palmist, Columnist, and an Advocate at the Supreme Court of India, Different High Courts and Session Courts in India.
Dr Manish, the Director of Supercounsellors and his mother Mrs Rupali Baruah Das, the First lady career Counsellor from North East India run multiple foundations and educational institutes along with Supercounsellors including,
• www.careernewsz.com – for Career Counselling
• www.directadmissionandloan.com – for Career
counselling along with Educational loan assistance for
students with financially weaker backgrounds.
• www.indianoverseas.in – for abroad students
• www.kef360.com – for career counselling with an
online psychometric test.
• www.iipa.in.net – for our own online courses.
• www.supercounsellors.com – for online counselling to
educational-related people.
• www.aig.institute.org.in – for Graphology Institute
• www.iipalawtutorial.institute.org.in – for Law
Coaching.
• www.iiopa.institute.org.in – for International Institute
of Performing Arts.
• www.kef.institute.org.in – for Kulendra Das
Educational Foundation.
• www.indialawtimes.in – for Law News and Articles.
• www.northeastassam24.com – for North East Assam
News.
• www.manishdas.com – an informative site about
Advocate Manish Das.
• www.rupalibaruahdas.com – informative site about
Rupali Baruah Das.
• www.iipa.institute.org.in – for IIPA (NGO)
• www.bandhancity.com – for Northeast Assam's First
Matrimonial.
• www.bandhancity.in – for North East Assam First Matrimonial.
• www.dasandcolawfirm.com – for Any Law matter and
any registration, tax and services. Always choose one
of the North East Assam's oldest Law Firms since
1932.
• www.ice.institute.org.in – for Any Computer Software
and Hardware Courses from Govt. of India and Govt.
of Assam Awarded Intech Computer Education (ICE)
Since 2000.
• www.kefcareers.com – for Any kind of Scholarship and
Career-Related Courses.
• www.gonew.in – for A to Z in Traveling and Unique
Courses and Help in Getting New Courses.
• www.lexnext.in – For A to Z in all your Law-related
needs and solutions.
• www.kefcareer.in – For A to Z in Career Related
Courses.
In this mission of 22 years, Dr Manish has won several accolades and awards including
· The Real Super Heroes Award 2022 from FSIA
· Best Teacher Award Winner of 2021,
· Best NGO Award Winner of 2021,
· Best Educational Counsellor Awardee 2020,
· Best Edupreneur of the year 2020 and many more.
Dr Manish shares, "We have a mission: To educate the next generation which will fulfil our vision to make India a developed country by contributing to the field of
education."
Dr Manish spoke in an interview with insights success for its edition of 'India's 40 Under 40 Brightest Business Leaders.' Let us get educated and counselled from the following highlights of that inspirational discussion.
Sir, please tell us about the saga of your reputed business since its inception.
It was started long back in 2000 by me along with my mother Mrs Rupali Baruah Das. Since then, my role as an educator and counsellor has evolved over the years. And the experience was great because every time we get new listeners, a new environment, different schools and sometimes the same schools. Beyond this, we do a face-toface session with most of the students and try to know their problems and give the best solution by measuring their potential with the psychometric test, questionnaire and different activities where we try to take 360-degree views of the peer group etc.
Indianapolis based DJ and Entrepreneur Iman Tucker set to release first sneaker after the huge success of his apparel brand, Believe Brand Co.
It started off by designing premium faith based tees, hats, hoodies, jackets and various custom goods to wear on stage. As his desire for quality increased so did his vision for a brand.

Now it has transitioned into a luxury brand made to subtly stand out. Famous DJ and Entrepreneur Iman Tucker successfully built a faith based apparel brand named Believe Brand Co. The faith based apparel brand, Believe Brand Co. was brought up with the aim to establish itself as a Christian brand known for quality and a minimalistic style. However, as his desire to design luxury goods grew, he wanted to expand without plastering the traditional Believe Brand marks all over the high-end materials. This was the base for the setting up of Capre – a luxury brand he looks to use his momentum in entrepreneurship to scale.

That is when the vision of his own shoe came to light.
Indianapolis DJ and Entrepreneur, Iman Tucker found new interest in remixing a classic silhouette into a new look for his latest venture. He said, "Releasing a shoe that speaks of what we as a community believe in has always been a dream for us. The vision is to create a clean and simple, yet bold look to a luxury sneaker all stemmed from inspiration."
The idea came up as they discussed making goods from head to toe. "Well what about shoes?" As soon as it was suggested the team bought in and the work started. The team was tasked first with identifying a name for the brand. After toying around with ideas they resorted to a familiar playbook using Tucker's name. Believe Brand's name came from the Farsi to English translation Iman meaning "faith in God" or "Believe." However, this time it wasn't as direct. Born Iman Capre O'Neal Tucker, they looked to his second name "Capre" in lieu of the second brand. Aromanian translation leads to meaning goat.

Of course that was not the final destination.
Popular among American culture is the acronym G.O.A.T. or greatest of all time. In the Christian religion the son of God is referred to as the greatest man to walk the earth.
The team wanted the brand to be a testament to excellence, a luxury brand committed to a unique look and design of mark and materials unmatched to any other brands available in the market.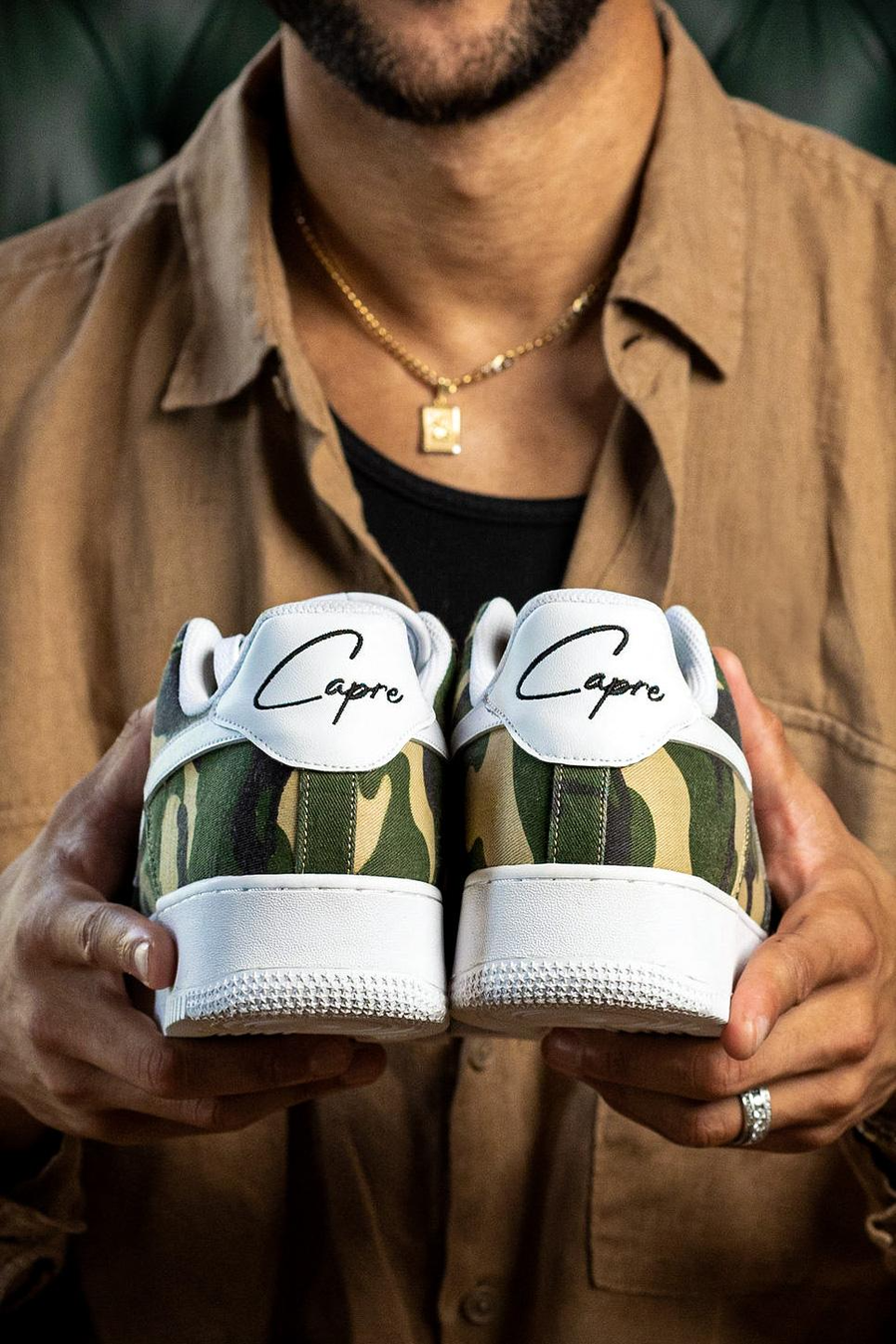 As for the logo, the team wanted to give the main side logo of the shoe something that resonated to something outside of the religion. They discussed "If the son of god is god…who is god? God is love!…we wanted to come up with something related to love." After the logo was finalized, an asymmetrical heart took the forefront of the design made up of two major parts. This was a very big deal for the team, to speak about the comparison. "We often compare our self worth on many factors and we feel smaller than those we look up to. However, it takes everyone to make the full picture, it takes all efforts to bring together the big and small," and that's how the team came up with the iconic heart logo on the side of the shoe.
Iman Tucker plans to release the shoe before the official release of the brand, Capre, which will be an online-only retail brand. The shoe will be available for pre-order from November 2022 while the company aims to release the luxury brand Capre by Q1 of 2023.
CYBER EXPERT MIEET SHAH SOLVES MORE THEN 1500 CYBER CRIME CASES.
In the era of digitalisation there are tons of people of being victimised where Cyber Expert Mieet Shah is helping them with unique solutions towards such crimes. Mieet Shah completed his doctorate in Cybersecurity at his young age and using his expertise in solving various types of cybercrimes and tracking cyber criminals and making justice to the victims of such crime which makes Dr.Shah is one of the leading Cybersecurity Experts in India.
Recently Dr.Shah has created a record by solving more then 1500 cybercrimes successfully. He was recently awarded with "International Fame Award" by bollywood actor Sonu Sood for his remarkable work. Also he had been published in more then 250 national and international media.
We are greatful to have such young and dynamic personality in our country.