BeTheGuide® Indian Mentoring Academy Pvt. Ltd: Inspiring a Wave of Change in North Eastern India
If you have a great idea, it's likely that you've thought of sharing it with many people, and rightly so. A mere spark of inspiration has colossal potential; it can drive powerful changes in our country, moving millions upon millions to a completely new way of thinking.
While it's undeniable that ideas are powerful, what's more important is the manner in which they're delivered. A phenomenal idea with weak delivery can ruin the whole thing. One must, therefore, not only think uniquely but also ensure that their unique message is conveyed with an impact.
BeTheGuide Indian Mentoring Academy Private Ltd. is a company that acknowledges this demand of the times. It thus guides speakers and trainers on honing their presentation & soft skills, and also provides them a platform for reaching more people.
As the first and only motivational coaching company of North-Eastern India, BeTheGuide has spurred a new paradigm in its region. Thus far, it has trained 3000 people, conducting over 100 sessions in various organizations and impacting 10,000 lives in the process.
BeTheGuide's stellar success is relatively fast considering its recent establishment. It was founded in 2018, and since then, it has been on an upward growth trajectory.
Empowering Change Through Motivation
The power of a motivational message is often understated. You never know how the right words can change someone's life – they can uplift depression, rekindle forgotten dreams, or give a new direction to one's business/career.
Mr. Santosh Sunar, Founder & Director of BeTheGuide, very well understands the truth of these lines. His story, thus, is also a reflection of his motivational searching.
Having a cumulative 15 years of experience in the field, Santosh was initially a Zoology (Hons.) student. He failed twice while trying to complete his graduation. Thereafter, he worked in various different roles; as a teacher, in an internet café, and also in the construction sector.
Santosh worked across different verticals so as to gain knowledge of different markets. While initially he aspired to be a naval officer, he later wounded up a job at HSBC bank.
The banking sector was vastly different from his educational field. The new dynamics and processes of the industry posed a significant challenge to him. Despite such hindrances, however, he got out his comfort zone and strived utmost to refine his skills.
Working with the financial sector made Santosh realize that it wasn't really his calling. He wanted to do more fulfilling work. He later stumbled upon some motivational videos on Google and a light bulb immediately went on. "I was fascinated by the motivational speakers and the way they influenced people's lives," he recollects.
Deciding that this was his passion, Santosh went all-in with the idea and never looked back. The rest is history.
In addition to Santosh's efforts, Kalyan Bhattacharjee, the Co-founder of the company, too was instrumental in getting it off the ground.
Shaping Tomorrow's Leaders
Reskilling, Reshaping, and Rebuilding – This is the mantra Santosh ardently stands by with his brand. Its services, thus, represent a holistic range of skills for reinventing the self:
Motivational Coaching Programme: The brand aims to create Motivational Speakers across India, and also provide them a platform for recognition and earning. The company has tie-ups with various schools, colleges, and organizations for this.
Professional Trainer Programme: Soft skills training is a booming business field and the company understands this. It thus provides rigorous training to professional trainers, so that they may coach people and open them to various opportunities in the market.
Entrepreneurship Programme: Amid the pandemic, when companies are getting shut/laying off their employees, this serves as an effective means of sustenance. It helps employees, professionals, and all those who're dependent on their jobs to nurture their ideas and become self-reliant.
Motivational Clubs: A flagship programme of BeTheGuide, this trains educational institutions, companies, etc., on aspects like selling, marketing management, teaching, driving quality education, and so on. The program is organized throughout the year at a very affordable price. Its key highlight is that customers are monitored, checked, and provided working solutions throughout the year.
An Incessant Growth Approach
As an entrepreneur who specializes in skills-training, Santosh has a relentless approach towards growth. This is why he adopts an OAI Model – Observe, Absorb, and Implement – for steering his company's operations.
Santosh's ardent growth approach is further bolstered by his openness to feedback. He makes a special effort to understand his employees' problems and make his services affordable to clients.
Speaking of the financial aspects of business, Santosh shares how he doesn't believe in the idea of securing funds from angel investors, venture capitalists, and banks. He thus always fine-tunes his services, making them a workable program for his customers.
He goes on to by elaborate this stance by saying: 'the customer is the biggest investor'. For this simple reason, he'll go to any extent to ensure a wholesome customer experience.
On the employment front, Santosh is eager to hire more human workforce as opposed to deploying AI or other technologies. This is because he wants to create more career opportunities for all kinds of people. During the pandemic times even, he didn't terminate or lay-off any employees, assuring them an environment of safety and support.
The Streak of Successes
BeTheGuide's relatively new market entry is marked by a series of unprecedented achievements.
The company is ISO 9001:2015 certified. It has also won numerous credits for its revolutionary work in the industry:
Felicitated with Global Choice Award as One of the Best Motivational Coaching Centers in India 2021.
Awarded and Featured in Business Fame Magazine as One of the Best Innovative Start-up to look for in 2021.
Featured and Certified as India's Fastest Growing Start-up by CIOLOOKINDIA an International Magazine 2020
Felicitated with International Teaching Award for driving excellence in Educational Field 2020
Felicitated with Indian Leadership Icon award by BrandOpus India 2020, for being the Best Motivational Coaching Center in Northeast India.
In terms of the director's achievements, Santosh has been:
Recognized and awarded as One of Top100 Entrepreneurs in Meghalaya, in a Chief Minister's Business E-Champion challenge 2019.
Awarded a National Award for being the Best Motivational Speaker of the year 2021 organized by NEBA, Hypedge Media and ICAN Foundation India.
Featured and Certified as one of Top 100 Educators in India by Journey Magazine in association with CodeBharat, in 2021.
Apart from his speaking and business engagements, Santosh is also strong on the literary front. He is the Author of the Best-Selling E-book: "Public Speaking: A Step to Become Rich", as well as an internationally recognized poet.
A Holistic Marketing Approach
As a forward-thinking brand, BeTheGuide adopts a holistic marketing approach compromising of three pillars: digital marketing, content marketing, and psychological marketing.
Furthermore, it also gives special importance to word-of-mouth referrals, which are indeed very powerful.
The brand's marketing expenses, however, have thus far been negligible and yet it has trained over 3000 people in two years. This alone speaks volumes about its services.
The brand's growth plan was to initially leverage low-cost marketing and then progress to a higher budget investing the extra income.
BeTheGuide is also offering a franchise marketing system, wherein people can avail the opportunity along with numerous benefits at a very low investment.
Envisioning The Future
An ambitious company is likely to have some grandiose plans; one which defy limitations. BeTheGuide is no exception to this rule.
In the next 10 years, the company aspires to:
Be a powerhouse in the fields of training, skilling, coaching, and mentoring.
Make investments on a Motivational mall, Motivational library, and be a billion-dollar industry.
Be one of the happiest organizations to work for and create an environment of trust and credibility.
Expand in more than 20 countries, especially in the countries which are developing or are poor countries in terms of GDP.
BeTheGuide is constantly striving to create more motivational speakers, professional trainers, entrepreneurs, and motivational clubs across India.Above all, it envisions becoming the top training & development hub in India.
Advocate Author Dr. Manish Das of Supreme Court
Just like the theory of multiple intelligences, there should be a theory of multiple talents. If somebody would devise it then its first contender would be Dr Manish Das, the Director of Supercounsellors, who is the wealthiest personality with as many talents and professional qualities as possible. He is like a protagonist from a social reformist story who is always on a mission to transform society with his constant positive contribution and Author of the book – The Assam Municipal Corporation Act, 2022.
Dr Manish is a Freelance Professional Model, Actor, Dancer, Anchor, Theatre Artist, Performer, Author, Trainer, Social Worker, Artist, Counselor, Musician, Poet, Chess Player, Astro-Palmist, Columnist, and an Advocate at the Supreme Court of India, Different High Courts and Session Courts in India.
Dr Manish, the Director of Supercounsellors and his mother Mrs Rupali Baruah Das, the First lady career Counsellor from North East India run multiple foundations and educational institutes along with Supercounsellors including,
• www.careernewsz.com – for Career Counselling
• www.directadmissionandloan.com – for Career
counselling along with Educational loan assistance for
students with financially weaker backgrounds.
• www.indianoverseas.in – for abroad students
• www.kef360.com – for career counselling with an
online psychometric test.
• www.iipa.in.net – for our own online courses.
• www.supercounsellors.com – for online counselling to
educational-related people.
• www.aig.institute.org.in – for Graphology Institute
• www.iipalawtutorial.institute.org.in – for Law
Coaching.
• www.iiopa.institute.org.in – for International Institute
of Performing Arts.
• www.kef.institute.org.in – for Kulendra Das
Educational Foundation.
• www.indialawtimes.in – for Law News and Articles.
• www.northeastassam24.com – for North East Assam
News.
• www.manishdas.com – an informative site about
Advocate Manish Das.
• www.rupalibaruahdas.com – informative site about
Rupali Baruah Das.
• www.iipa.institute.org.in – for IIPA (NGO)
• www.bandhancity.com – for Northeast Assam's First
Matrimonial.
• www.bandhancity.in – for North East Assam First Matrimonial.
• www.dasandcolawfirm.com – for Any Law matter and
any registration, tax and services. Always choose one
of the North East Assam's oldest Law Firms since
1932.
• www.ice.institute.org.in – for Any Computer Software
and Hardware Courses from Govt. of India and Govt.
of Assam Awarded Intech Computer Education (ICE)
Since 2000.
• www.kefcareers.com – for Any kind of Scholarship and
Career-Related Courses.
• www.gonew.in – for A to Z in Traveling and Unique
Courses and Help in Getting New Courses.
• www.lexnext.in – For A to Z in all your Law-related
needs and solutions.
• www.kefcareer.in – For A to Z in Career Related
Courses.
In this mission of 22 years, Dr Manish has won several accolades and awards including
· The Real Super Heroes Award 2022 from FSIA
· Best Teacher Award Winner of 2021,
· Best NGO Award Winner of 2021,
· Best Educational Counsellor Awardee 2020,
· Best Edupreneur of the year 2020 and many more.
Dr Manish shares, "We have a mission: To educate the next generation which will fulfil our vision to make India a developed country by contributing to the field of
education."
Dr Manish spoke in an interview with insights success for its edition of 'India's 40 Under 40 Brightest Business Leaders.' Let us get educated and counselled from the following highlights of that inspirational discussion.
Sir, please tell us about the saga of your reputed business since its inception.
It was started long back in 2000 by me along with my mother Mrs Rupali Baruah Das. Since then, my role as an educator and counsellor has evolved over the years. And the experience was great because every time we get new listeners, a new environment, different schools and sometimes the same schools. Beyond this, we do a face-toface session with most of the students and try to know their problems and give the best solution by measuring their potential with the psychometric test, questionnaire and different activities where we try to take 360-degree views of the peer group etc.
Indianapolis based DJ and Entrepreneur Iman Tucker set to release first sneaker after the huge success of his apparel brand, Believe Brand Co.
It started off by designing premium faith based tees, hats, hoodies, jackets and various custom goods to wear on stage. As his desire for quality increased so did his vision for a brand.

Now it has transitioned into a luxury brand made to subtly stand out. Famous DJ and Entrepreneur Iman Tucker successfully built a faith based apparel brand named Believe Brand Co. The faith based apparel brand, Believe Brand Co. was brought up with the aim to establish itself as a Christian brand known for quality and a minimalistic style. However, as his desire to design luxury goods grew, he wanted to expand without plastering the traditional Believe Brand marks all over the high-end materials. This was the base for the setting up of Capre – a luxury brand he looks to use his momentum in entrepreneurship to scale.

That is when the vision of his own shoe came to light.
Indianapolis DJ and Entrepreneur, Iman Tucker found new interest in remixing a classic silhouette into a new look for his latest venture. He said, "Releasing a shoe that speaks of what we as a community believe in has always been a dream for us. The vision is to create a clean and simple, yet bold look to a luxury sneaker all stemmed from inspiration."
The idea came up as they discussed making goods from head to toe. "Well what about shoes?" As soon as it was suggested the team bought in and the work started. The team was tasked first with identifying a name for the brand. After toying around with ideas they resorted to a familiar playbook using Tucker's name. Believe Brand's name came from the Farsi to English translation Iman meaning "faith in God" or "Believe." However, this time it wasn't as direct. Born Iman Capre O'Neal Tucker, they looked to his second name "Capre" in lieu of the second brand. Aromanian translation leads to meaning goat.

Of course that was not the final destination.
Popular among American culture is the acronym G.O.A.T. or greatest of all time. In the Christian religion the son of God is referred to as the greatest man to walk the earth.
The team wanted the brand to be a testament to excellence, a luxury brand committed to a unique look and design of mark and materials unmatched to any other brands available in the market.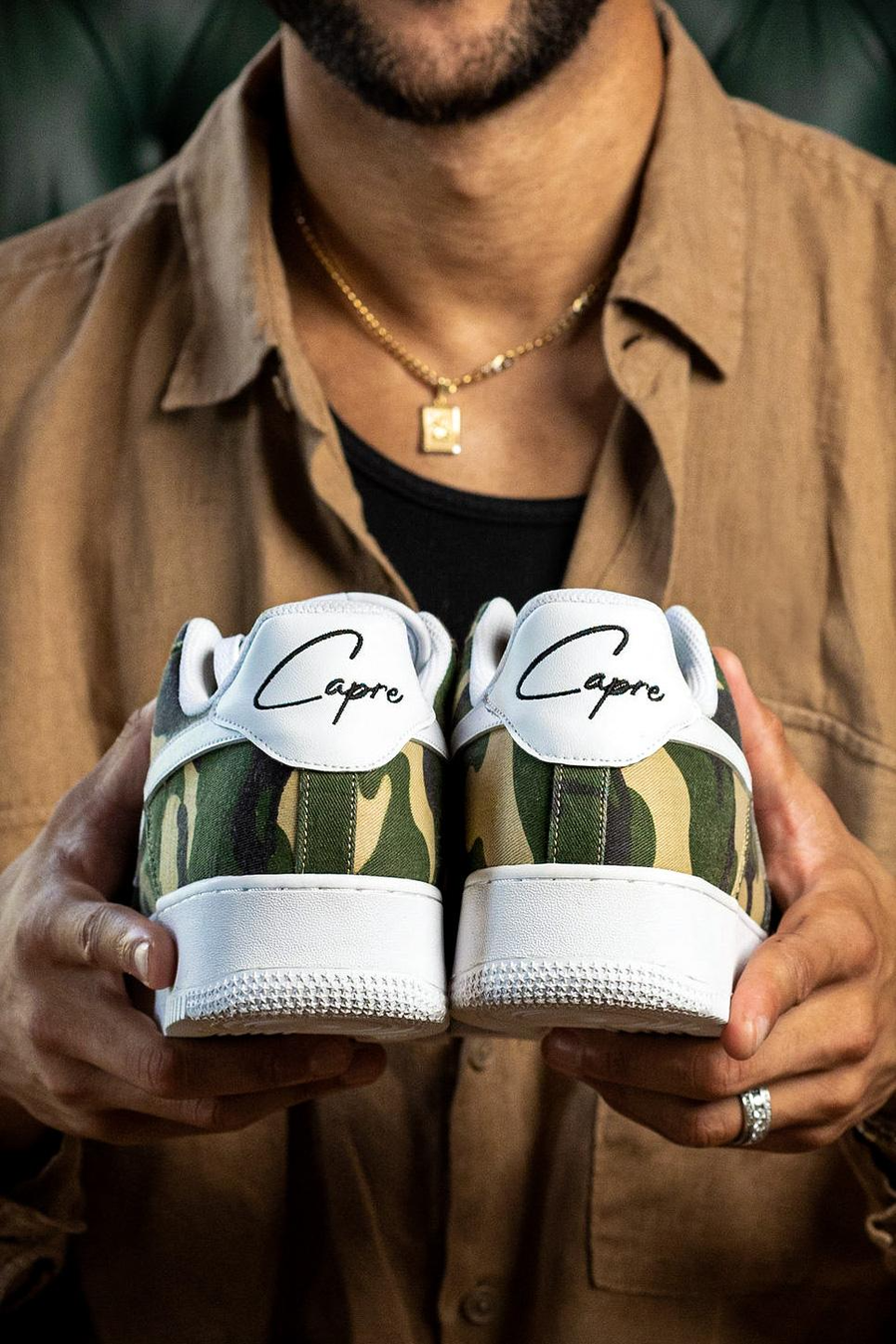 As for the logo, the team wanted to give the main side logo of the shoe something that resonated to something outside of the religion. They discussed "If the son of god is god…who is god? God is love!…we wanted to come up with something related to love." After the logo was finalized, an asymmetrical heart took the forefront of the design made up of two major parts. This was a very big deal for the team, to speak about the comparison. "We often compare our self worth on many factors and we feel smaller than those we look up to. However, it takes everyone to make the full picture, it takes all efforts to bring together the big and small," and that's how the team came up with the iconic heart logo on the side of the shoe.
Iman Tucker plans to release the shoe before the official release of the brand, Capre, which will be an online-only retail brand. The shoe will be available for pre-order from November 2022 while the company aims to release the luxury brand Capre by Q1 of 2023.
CYBER EXPERT MIEET SHAH SOLVES MORE THEN 1500 CYBER CRIME CASES.
In the era of digitalisation there are tons of people of being victimised where Cyber Expert Mieet Shah is helping them with unique solutions towards such crimes. Mieet Shah completed his doctorate in Cybersecurity at his young age and using his expertise in solving various types of cybercrimes and tracking cyber criminals and making justice to the victims of such crime which makes Dr.Shah is one of the leading Cybersecurity Experts in India.
Recently Dr.Shah has created a record by solving more then 1500 cybercrimes successfully. He was recently awarded with "International Fame Award" by bollywood actor Sonu Sood for his remarkable work. Also he had been published in more then 250 national and international media.
We are greatful to have such young and dynamic personality in our country.